Kerry Meets Zarif With Nuclear Agreement Nearing Finalization
Jonathan Tirone and Kambiz Foroohar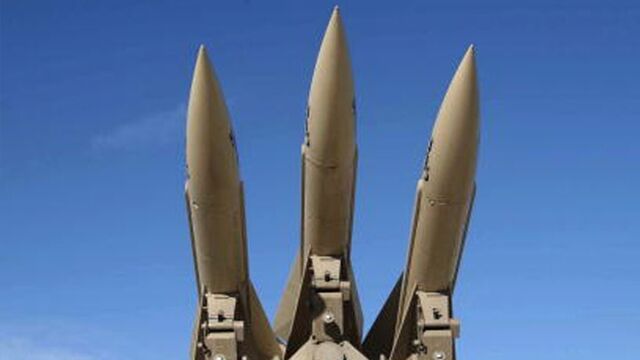 U.S. Secretary of State John Kerry and Iranian Foreign Minister Mohammad Javad Zarif meet Saturday in Vienna, aiming to bridge the final gaps hobbling a nuclear accord before time runs out on their self-imposed deadline.
Three months after Iran and world powers reached a framework deal in Lausanne, Switzerland, they continue to wrangle over details. Diplomats have predicted talks will run past the June 30 deadline and that foreign ministers from the other negotiating countries -- China, France, Germany, Russia and the U.K. -- will need to join in.
"A fairly good portion of the work has been accomplished, a large part of the texts have been finalized," Iranian state television reported Deputy Foreign Minister Abbas Araghchi as saying in the Austrian capital. "Work might be extend by a few days" to reach a deal, he said.
Policy makers in the Islamic Republic and the U.S. have been highlighting their red lines in the run-up to this round of negotiations. Iranian Supreme Leader Ali Khamenei said in Tehran on Tuesday that onerous nuclear-research restrictions and delayed sanctions relief would be deal killers. Two days later, a U.S. official reiterated relief wouldn't be given until international monitors have verified the deal is in place.
While negotiators are getting closer, there are some issues where they're encountering "great difficulty," Russian Deputy Foreign Minister Sergei Ryabkov told the state news service RIA Novosti on Friday. President Barack Obama told his Russian counterpart, Vladimir Putin, in a phone call Thursday that their countries have to stick together at the Iran talks.
Long Estrangement
The current round of negotiations, one of many in the 12-year dispute, began 21 months ago when Obama and Iranian President Hassan Rouhani spoke by phone after a meeting of the United Nations General Assembly. A successful accord would be seen as a centerpiece of Obama's foreign-policy legacy and could begin easing the countries' 35-year estrangement.
"A deal is more likely than not, even if both sides have shown some backsliding in recent days," said Richard Dalton, the U.K.'s former ambassador to Tehran who now provides policy advice to governments at the London-based Royal Institute of International Affairs, by phone.
Former U.S. administration officials and congressional Republicans have urged negotiators to continue talking rather than acquiesce to Iranian demands. Should a deal be struck, the draft accord would need to be sent to Congress for review by July 9 in order to streamline adoption.
Framework Accord
"Some of the solutions we arrived at in Lausanne are inadequate," Araghchi said. "Countries have made comments, raised issues and made changes in their positions that have rendered the work somewhat more difficult."
According to an April 2 U.S. fact sheet on the framework deal, Iran will need to cut its nuclear capacity by two-thirds, stop enriching uranium at a facility built into a mountain, swear off plutonium production and slash its fuel stockpile by 97 percent. In return, the country will receive sanctions relief that will let it boost oil exports and tap international financial markets.
"Contrasting interpretations of aspects of the Lausanne framework are at the heart of this clincher," Peter Jenkins, a former U.K. diplomat who helped lead nuclear negotiations with Rouhani before he become president, said in an e-mail. "Both sides have so much to gain that I will be surprised if they fail to do a deal by July 8."