Hurdles to Iran Deal Remain Ahead of Next Week's Deadline: Q&A
Jonathan Tirone and Ladane Nasseri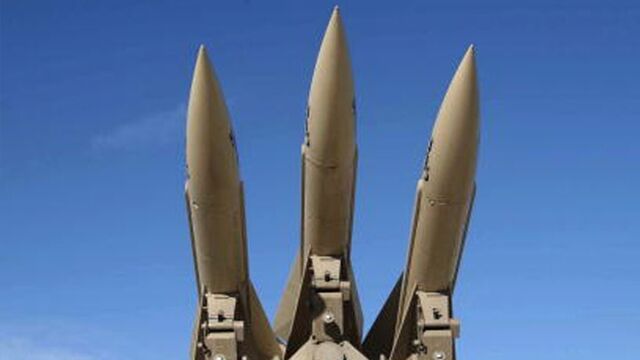 Top diplomats including U.S. Secretary of State John Kerry and Iranian Foreign Minister Mohammad Javad Zarif are converging on Vienna to try to seal an agreement that would relax international sanctions on Iran in return for curbs on its nuclear program.
Negotiators are trying to hammer out the most contentious issues ahead of the self-imposed June 30 deadline.
Here's an overview of progress and what may happen next.
How close is a deal?
Envoys agreed on April 2 in Lausanne, Switzerland, on the broad outlines of an accord that would end their decade-long dispute over Iran's nuclear work.
According to the U.S. fact sheet released after those talks, Iran agreed to enact deep cuts to its nuclear capacity for a decade. It would also be permanently bound to the most intrusive verification regime available to International Atomic Energy Agency inspectors.
What major hurdles remain?
The timing and pace of sanctions relief, along with the breadth and depth of inspections, continue to spark public sparring between the sides.
Iranian Supreme Leader Ayatollah Ali Khamenei said June 23 that all sanctions must be lifted when an agreement is signed. U.S. officials insist that Iran won't get any relief from sanctions, which range from restrictions on oil sales to frozen overseas accounts, before commitments it has agreed to have been implemented and verified.
How far and wide IAEA inspectors will be able to roam inside Iran is disputed. Some Iranian leaders have said inspectors will be barred from military sites, something that its interlocutors -- the U.S., China, Russia, the U.K., France and Germany -- say would block a deal.
How will inspections be managed?
While the IAEA isn't a direct party to the talks, the Vienna-based body will be at the center of any deal. With 1,692 person-days of inspections, Iran was the most heavily inspected country in 2014, according to IAEA data.
As a first step, the agency's teams will have to issue an assessment of the possible military dimensions of Iran's past nuclear work. The IAEA would also need to verify the implementation of any accord before sanctions relief is given.
Later, the agency's verification remit would be broadened under the Additional Protocol, a legally binding instrument that grants inspectors wider and speedier access to sites of interest.
What about military locations?
Once Iran ratifies and implements the protocol, IAEA inspectors will have unimpeded, immediate access to nuclear installations. Iran would be given the chance to clarify agency suspicions of nuclear work at non-declared sites, like military facilities, before inspectors could pursue managed access.
The IAEA requested 78 of these so-called complementary visits in 2014 among the 125 countries that have ratified the Additional Protocol. Complementary inspections were conducted in Canada, Germany, Kazakhstan, Turkey and Vietnam.
Will negotiators meet their deadline?
Probably not. Envoys have missed all their previous cutoffs. They originally sought a deal by July 2014. Failing to reach that milestone, talks were extended until November and then again to end-March. The framework agreement wasn't ready until early April.
While all sides say the detailed text for an accord could be ready by June 30, some negotiating parties have said it may take longer. In Washington, there's growing political leeway for President Barack Obama to go beyond the deadline.
With the U.S. Congress -- which needs to review any deal -- on recess until July 6, negotiators have some wiggle-room to extend talks without disrupting the pace of an eventual accord's implementation.
What happens if negotiations fail?
Failure would trigger what diplomats call the "Blame Game" -- ascribing the collapse to the intransigence of others. While Congress has threatened to impose new sanctions should the talks fail, European diplomats warned last month that international unity over trade and finance restrictions could slip.
Even with sanctions, periodically strengthened over the last decade, Iran's trade has grown 70 percent since 2005. Sanctions haven't prevented Iran from exponentially increasing its uranium enrichment over the past decade.
Failure in Vienna would allow Iran to continue expanding its nuclear program and stockpiling fissile material. Diplomats say that would increase the probability of military conflict.
What's at stake for Iran's government?
President Hassan Rouhani was elected in 2013 after pledging to engage the U.S. and get sanctions lifted. Reaching a nuclear deal is central to that mandate. An accord would embolden Rouhani in his tussle with conservative rivals, potentially facilitating bolder economic or social reforms.
Iran could win access to an estimated $100 billion in foreign-exchange holdings that are inaccessible or restricted by sanctions, a boon for a government that's seen revenue slashed by oil-price slumps and curbs on crude exports.
The removal of international banking and trade sanctions would open doors to foreign investors eagerly eyeing a market of 80 million people.
Who are the biggest critics?
Israeli Prime Minister Benjamin Netanyahu, who has long accused Iran of seeking to build nuclear weapons, is a top critic of the deal. Allowing Iran to keep its nuclear infrastructure would be a threat to Israel, he says.
Other vocal critics, including Republican senators in the U.S. Congress, say Iran cannot be trusted to meet its obligations. They advocate maintaining sanctions until the government in Tehran offers more concessions.
Persian Gulf countries, in particular Saudi Arabia, are concerned a deal would bolster Iran's growing influence in the Middle East and result in closer ties between Iran and the U.S., a long-time ally of the Saudi monarchy.
Hardliners in Iran, including in parliament, view a deal with the U.S. with suspicion and have attacked Rouhani's government for conceding too much. With Ayatollah Khamenei in principle backing an accord, domestic critics are unlikely to constitute an obstacle.