business
Downpours and Drought Send Wheat to Biggest Gain in Three Years
Jeff Wilson and Rudy Ruitenberg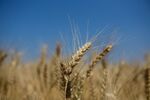 Too much rain in the U.S. and not enough in Europe and Canada sparked the biggest weekly rally in wheat and corn prices in three years.
Wheat futures jumped 15 percent in Chicago this week, entering a bull market. Corn climbed 9.4 percent and milling wheat rose 8.7 percent in Paris. The advances are the largest since 2012. Soybeans capped the biggest gain since October.

Downpours across the U.S. Midwest and Plains are eroding grain quality, while fields in France and Canada have been parched by heat and dry weather. The El Nino developing across the Pacific Ocean risks cutting Australia's wheat crop to the smallest in eight years, according to National Australia Bank Ltd.
"Market participants just don't know how much damage the adverse weather will cause, and that has created some panic buying," Gordon Linn, the president of Linn & Associates in Chicago, said in a telephone interview. "Emotional markets tied to weather will be very volatile. June weather rallies rarely continue through July."
Parts of the U.S. Midwest received three times more rain than usual this month, and Illinois is headed for the wettest June since before 1895, according to Chicago-based T-Storm Weather LLC. U.S. winter wheat, corn and soybeans classified as good or excellent all fell 2 percentage points on June 21 from a week earlier, and conditions should show further losses in Monday's update from the government, Linn said.
Wheat futures for September delivery rose 5.6 percent to close at $5.68 a bushel at 1:15 p.m on the Chicago Board of Trade. The price surged 22 percent from a closing low on May 5, meeting the common definition of a bull market.
Corn Prices
Corn futures for September delivery climbed 2.5 percent to $3.925 a bushel in Chicago. The price reached $3.97, the highest for a most-active contract since March 31. The grain headed for the biggest monthly gain since October.
Crops in parts of Europe and Canada aren't getting enough rain, and the hot weather next week will threaten to reduce yields, Commodity Weather Group LLC said Friday in a report. Topsoils were dry in Saskatchewan and Alberta, Canada's biggest wheat-growing region, with crop development delayed, according to the provinces' agriculture ministries this week.
In France, Europe's biggest grain grower, maximum temperatures in the south and center regions may exceed 35 degrees Celsius (95 Fahrenheit) from Wednesday, Meteo-France predicts. Soft wheat in good or very good condition made up 81 percent of the crop in the week through June 22, down from 85 percent a week earlier, data from FranceAgriMer show.
'Considerable Volatility'
A strengthening El Nino will create the potential for "considerable price volatility" for commodities, even those with sufficient stockpiles, Rabobank International said Friday in a report. The bank expects the biggest impact on wheat, coffee and sugar.
Soybean futures for November delivery rose 0.8 percent to $9.86 a bushel in Chicago. The price reached $10.02, the highest since March 4. This week, the oilseed jumped 4.9 percent, the most since Oct. 31.
Milling-wheat futures for December delivery climbed 4.4 percent to 196 euros ($218.83) a metric ton on Euronext in Paris.
Before it's here, it's on the Bloomberg Terminal.
LEARN MORE