Christie Budget That Shorts Pensions No Help on National Stage
Elise Young and Terrence Dopp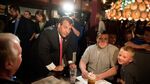 Chris Christie signed New Jersey's budget after cutting more than $1.6 billion in new spending on items including pensions, and vetoing higher taxes on businesses and the rich as he has done in past years.
This time, though, the Republican governor's decisions come under a national microscope.
Christie, 52, will announce his run for president Tuesday, according to two people with knowledge of the plan. Already on the campaign trail, he's bragged about rejecting every tax increase sent to him by the Democratic-led legislature, overhauling public employee pension and health benefits, reducing the cost of government and lowering unemployment.
And yet, New Jersey's $83 billion unfunded pension liability continues to grow as Christie reneges on payments. The state's roadwork fund is broke, as mass-transit users brace for higher fares and service cuts. Job growth trails the nation's. The state's credit rating has been downgraded nine times under Christie, the most for a New Jersey governor, while his approval at home is at a record low.
"He can't talk about economic growth, fiscal strength or strong approval ratings," said Julian Zelizer, a professor of history and public affairs at Princeton University in New Jersey. All of his Republican opponents "are going to make a clear and simple argument that he hasn't been a good governor."
Crowded Stage
New Jersey lawmakers on Thursday sent Christie a $35.3 billion spending plan for the fiscal year starting July 1 that would have more than doubled his planned pension payment, as well as separate bills to raise taxes on businesses and millionaires. Christie had initially proposed a $33.8 billion plan.
Christie struck down the income-tax hike using a procedure known as a conditional veto and sent it back to lawmakers as a 50 percent increase in the earned income tax credit.
"Taxes are too high in New Jersey," Christie told reporters today in Trenton in his first statehouse news conference this year. "Yet the the legislature continues to think somehow we're immune to the competitive forces that are going on around us. Well we're not, and I'm not going to make matters worse."
When questions quickly turned to Christie's reported announcement, he declined to comment on his political future.
Christie is joining 13 other Republicans in the race for the party's presidential nomination. At least eight of those who have announced or are considering doing so are current or former governors who say their experience running a state has prepared them to lead the nation.
In New Jersey, Christie was the first Republican elected governor since 1997, in a state where Democrats outnumber his party by more than 700,000 registered voters. The state hasn't elected a Republican to the U.S. Senate since Clifford Case in 1972, and has backed Democrats for president since 1992.
During his first term, Christie built a national image as a bipartisan leader after persuading Democrats to support a pension overhaul in return for higher contributions. Since winning a second term in 2013, he has reneged on his pledge, prompting Democrats to reject his calls to compromise on additional benefits cuts.
Christie's approval among New Jersey registered voters fell to 30 percent in a Fairleigh Dickinson University PublicMind poll released on June 23. In New Hampshire, which has the first-in-the-nation primary, Christie got 5 percent of the vote in a Suffolk University poll released the same day.
Same Show
On Tuesday, the last day of this fiscal year, he'll make his presidential announcement in Livingston, where he grew up, according to two people who spoke on anonymity because they weren't authorized to discuss the plans. Samantha Smith, a spokeswoman for Christie's Leadership Matters for America political action committee, didn't return a telephone call seeking comment.
As other Republican governors have reconsidered their no tax-increase pledges amid budget shortfalls, Christie hasn't budged. His claims that such taxes are job killers are overblown, said Senator Paul Sarlo, a Democrat from Wood-Ridge who is chairman of his chamber's budget panel.
"That's great rhetoric -- it may work well for a presidential campaign," Sarlo said. "For what's happening here in New Jersey, we think this is the right answer."
Budget Promises
Tom Rath, a former Republican National Committeeman from New Hampshire who has advised George H.W. Bush, George W. Bush, Bob Dole and Mitt Romney, said Christie's budget impasse with lawmakers displays a Republican governor standing up against "Democratic profligacy."
The result will hand Christie a victory before his announcement that he can use during campaign stops in New Hampshire, Rath said.
"He's going to get up in town meetings and say 'they wanted more spending but I said no' -- how does that hurt him?" said Rath, who isn't affiliated with a candidate.
Jennifer Duffy, a senior editor of the Cook Political Report, which provides analysis of national elections from Washington, said one of the budget's positive points for Christie is that it doesn't raise taxes, which she called a "God forbid" scenario in a Republican field.
The Democrats' lack of alternatives, and refusal to work with him on pensions, will help Christie paint them as obstructionist, she said.
Still, for prospective Republican opponents, the "budget is a symptom" of more widespread financial troubles in New Jersey, Duffy said.
"Why isn't it recovering better? Where's unemployment?'" said Duffy, giving examples of questions that Christie would be likely to hear about his home state.