Why Don't Carmakers Kill Off Unpopular Models?
Mini shows a rare willingness to ditch models few people wanted to buy
By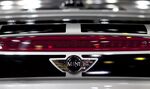 Mini is boxing up the scented candles, putting the caps back on the massage oils, and returning the Keith Sweat records to the closet. While other automakers continue to procreate new models almost weekly, the BMW-owned brand took a rare vow of chastity and moved to cut three cars from its lineup. Mini will now focus on only five remaining models.