U.K. Replaces Network Rail Chairman as Some Upgrades Put on Hold
Eddie Buckle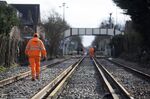 The U.K. government named a new chairman to head Network Rail Ltd., the operator of the country's rail infrastructure, and said some work by the state-owned company to upgrade lines is being put on hold because of cost overruns and missed deadlines.
Network Rail Chairman Richard Parry-Jones is stepping down and will be replaced by the current transport commissioner in London, Peter Hendy, Transport Secretary Patrick McLoughlin told Parliament in London Thursday. None of Network Rail's executive directors will receive a bonus for the past year, McLoughlin said.
"Important aspects of Network Rail's investment program are costing more and taking longer; electrification is difficult; the U.K. supply chain for the complex signaling works needs to be stronger; construction rates have been slow," McLoughlin said. "All of these problems could and should have been foreseen by Network Rail."
Electrification of the Midland main line from London to Nottingham and Sheffield will be "paused," the transport secretary said, as will work on electrifying the line between Leeds and Manchester in northern England.
Read this next: