Where Europeans Spend the Most on Rent, Mapped
Renters in the U.K. spend the most in absolute terms and as a proportion of their average income.
By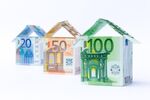 The average renter in the U.K. pays more than double the E.U. average for their home. That's the stark picture (stark for Britons, at least) painted by some new maps released this week by Britain's National Housing Federation. Based on E.U. figures for 2013 (the last year for which figures are available for the entire union) the two maps detail the cost of renting across the E.U.—the first in absolute terms and the second as a proportion of average income. While looking at countries as a whole can mask extreme differences from region to region, the results provide a fascinating, sometimes surprising snapshot of the dramatic peaks and troughs of Europe's private rental market.

Let's start with the first map, which details the absolute cost of private rents. With an average rent of €902 ($1,009) per month, the U.K. has the highest average rent by a mile. Second position is taken by Ireland, but with a rental figure of €679 ($760), the average Irish renter still has €223 ($249) less to find every month. The next clutch of higher-rent countries—the Netherlands, Denmark, Spain, and Belgium—cluster slightly above the €600 ($672) mark, while the E.U.'s lowest rents by far are to be found in Latvia, at just €186 ($208) a month.
The huge gap between the U.K. and everyone else is alarming, but when you look at the second map, the overall picture sharpens a little. This one shows how much of their average monthly income E.U. residents have to fork out to pay an average rent, and is thus a better measure of actual affordability.

The U.K. is still at the top (or is it the bottom?) of the league with the highest E.U. rental costs, but this is a position it now shares with Spain. Overall, renters in both countries typically have to spend 39 percent of their income on rent. The gap between these two frontrunners and the rest of the crowd is a relatively narrow 4 percent—they're followed by Sweden and Romania where renting households typically need to spend 35 percent of their income on leasing their homes. Latvia still looks pretty cheap—renters need to dedicate only 15 percent of their income to housing—but Slovakia turns out yet cheaper at 13 percent. Within Western Europe, Germany and Portugal offer the best ratio of rental costs to overall income, with households in both countries having to devote a reasonable quarter of their income to rent.
For anyone who has been watching Europe's housing market, the U.K.'s high rental costs should come as no shock. London in particular is now notorious as a hub for international property speculation, where many fear homes are being built primarily as "safe deposit boxes" for investors. This isn't just a London problem, however. Across many of the U.K.'s regions, housing demand is easily outstripping supply, even in those areas that were, until recently, bubble-free, such as Scotland.  The average prices for newly-signed rental contracts in some regions come as low as £560 ($882), but with new laws allowing seniors to free up their pension pots for other investments, the official encouragement of property speculation doesn't look set to slow down anytime soon.
This is putting some serious strain on renters. As National Housing Federation researcher Gerald Koessl puts it:
"Individuals and families [in the UK] have to spend the equivalent of around 23 minutes out of every hour worked to pay for their rent, while it is around 17 minutes of every hour worked across the whole of Europe."
By contrast, Spain's high rental costs might come as a surprise. The country is still struggling to recover from its post-2008 economic crisis, and you might expect a general lack of cash to have pushed prices down. This isn't the case. In fact, according to this piece, yields for properties on the Spanish rental market have doubled in the last five years. That such a jump is possible is largely because, prior to the crisis, Spain was overwhelmingly a nation of owner-occupiers. As the Spanish property bubble deflated, Spaniards have found it harder to secure home financing, due both to falling wages and a credit crunch, while those that can overcome both are increasingly wary of doing so.
Their fears are understandable given the ongoing wave of evictions across Spain, a phenomenon so grave that now even Amnesty International is campaigning against it. A larger pool of potential tenants is chasing available apartments, and Spanish renters are seeing rental costs rise even as their ability to pay remains static or in retreat. Bearing in mind the tight spot that Spanish renters are finding themselves in, it makes more sense that both Madrid and Barcelona have just elected mayors with a history of campaigning against evictions and for affordable housing. Still, as the map makes clear, Spaniards should also bear in mind that many of their fellow Europeans are not necessarily that much better off.
Photo credit: Ben Schonewille/Shutterstock