Treasuries Fall as Consumer Spending Gains Eclipse Greek Impasse
Susanne Walker Barton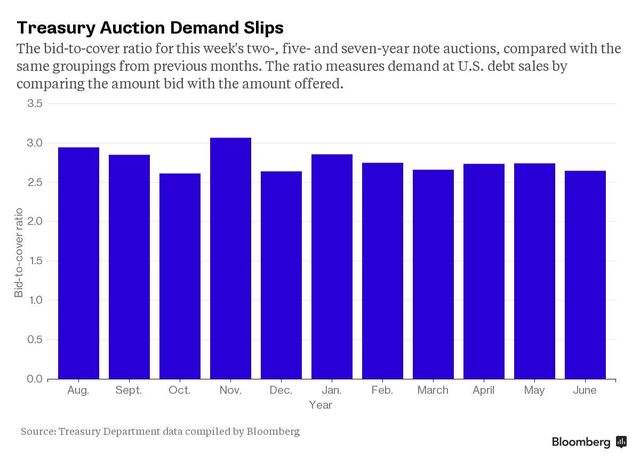 Treasuries fell for the third time in four days as reports showing the U.S. economy gaining momentum outweighed a lack of progress in Greece's debt negotiations.
Consumer spending rose in May by the most in almost six years as the Federal Reserve looks for signs the economy is healthy enough to raise interest rates. Treasury investors are caught balancing U.S. economic data and developments in Greece's talks with creditors that have failed to produce an accord on aid. Treasuries pared losses after the U.S. sold $29 billion of seven-year notes at the highest yield since September.
"That is a really good spending data point," said Dan Greenhaus, chief global strategist in New York at BTIG LLC. "Overall the data is certainly better in the second quarter. It keeps the Fed on track to raise rates this fall."
The Treasury 10-year yield increased four basis points, or 0.04 percentage point, to 2.41 percent as of 4:59 p.m. New York time, according to Bloomberg Bond Trader data. The 2.125 percent note due in May 2025 fell 11/32, or $3.44 per $1,000 face value, to 97 1/2.
Purchases increased 0.9 percent in May, Commerce Department figures showed in Washington, the biggest gain since August 2009 and higher than the 0.7 percent median forecast of 75 economists in a Bloomberg survey. Incomes rose 0.5 percent for a second month.
A separate report showed jobless claims held below 300,000 for the 16th straight week, signaling a tighter labor market.
Auction Yields
Traders betting on rising rates have pushed U.S. borrowing costs at auctions to the highest levels this year. The Treasury's sale of seven-year securities yielded 2.153 percent, the highest since September, compared with 1.888 percent at a previous auction on May 28.
"The fact that we sold off so much with Greece hanging in the background without being solved, helped attract some demand," said David Keeble, the New York-based head of fixed-income strategy at Credit Agricole SA. "The Greece news -- we've become immune to it to some extent."
A sale of $35 billion of five-year notes Wednesday drew a yield of 1.71 percent, the highest since December, and an auction of $26 billion of two-year debt on Tuesday yielded 0.692 percent, also the most since December.
Talks among euro-area finance ministers were suspended Thursday without producing a compromise, leaving Greece facing the possibility of default when its bailout ends June 30.
Greece Spillover
Fed Chair Janet Yellen acknowledged this month there may be spillover to the U.S. in the event Greece did not reach a deal, which could affect the path of American policy. She also reiterated that the decision on when to raise borrowing costs for the first time since 2006 will depend primarily on the evolution of U.S. economic data.
"There's almost nothing, with the possible exception of payrolls next week, that can really change much of the market's perception of the Fed outlook, which leaves Greece to be more dominant than it would be otherwise," said Jim Vogel, head of interest-rate strategy at FTN Financial in Memphis, Tennessee.
Before it's here, it's on the Bloomberg Terminal.
LEARN MORE