The Very Hungry Caterpillar
It's doubling down on Peoria after being wooed by other states
By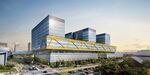 Where would Peoria be without Caterpillar? The world's largest maker of mining and construction equipment has made its home in the Illinois city of 115,800 since 1967. About 15,400 people in Peoria and surrounding towns draw a paycheck from CAT, making the company the largest employer in the area. Its presence is visible everywhere, from its headquarters at 100 NE Adams Street to the playground outfitted with a miniature tractor and skid-steer loader at the Shoppes at Grand Prairie mall. Caterpillar has put "Peoria on the map as a global center for business," says Andrew Greenlee, assistant professor of urban planning at the University of Illinois at Urbana-Champaign.
That long and fruitful relationship was in jeopardy a few years ago when Illinois enacted a temporary hike in the corporate income tax, raising it from 4.8 percent to 7 percent. (The rate has since rolled back to 5.25 percent.) In a March 2011 letter to then-Governor Pat Quinn, Caterpillar's chairman and chief executive officer, Doug Oberhelman, wrote, "I never really considered living anywhere else, and certainly never considered the possibility of Caterpillar relocating. But I have to admit, the policymakers in Springfield seem to make it harder by the day." The missive, a copy of which was obtained by the Lee Enterprises chain of newspapers, went on to say that at least four states were wooing the company. "I have been called, 'cornered' in meetings, and 'wined and dined'—the heat is on," wrote Caterpillar's boss.
Oberhelman later tried to reassure locals that the company would remain in Peoria, but the guarantee didn't come until February, when Caterpillar unveiled plans for a new headquarters in the city's downtown. The 31-acre campus will span six city blocks near the riverfront and will be built in stages over the course of a decade. When completed, it will have three nine-story office towers connected by a three-story building with a green roof and a facade wrapped in metal cladding painted in CAT's trademark yellow. The complex will accommodate 3,200 employees—almost 1,000 more than now work at the company's central administration building, which will be the last thing to be torn down as the new campus goes up.
Caterpillar decided to stay in Peoria partly because its roots in the area are deep, says Sri Srinath, managing director of the global headquarters project. In a longtime ritual, visiting customers first stop in at HQ to meet the top brass and are later whisked off to a plant in East Peoria to watch the tractors being made. Then it's on to the company's 2,500-acre proving grounds in nearby Washington, where the metal monsters are put through their paces. Illinois Governor Bruce Rauner, who was present at the February announcement, noted that the company didn't get any special perks to remain in the state. "Caterpillar never came to me or the prior governor and asked for any special deal," he said.
For the design of its corporate campus, Caterpillar studied the headquarters of Silicon Valley companies such as Google, as well as manufacturer Harley-Davidson in Milwaukee and drugmaker Eli Lilly in Indianapolis, to find the right mix of features. The lead architect on the project, Gensler, has designed headquarters for Facebook and Airbnb. For Caterpillar, the West Coast firm conceived an open campus with spaces where employees, along with other Peoria residents, can eat, shop, and socialize. There also will be an on-site fitness center and child care.
Officials in Peoria are hopeful that Caterpillar's expansion will add momentum to a $30 million, five-year effort to make over the city's warehouse district, says Christopher Setti, assistant city manager. The few residential properties in the downtown area often have waiting lists because of a dearth of apartments, says Tom Berwanger, a director at D1 Development. In May the local developer announced plans to turn an 80,000-square-foot building into a mix of rental apartments, shops, and offices.
The city and the company are courting millennials. A year ago, 26-year-old Ali Morrison became the fifth generation in her family to work for Caterpillar. She says she decided to settle in Peoria because of the quality of life and her career prospects. "It's not unusual for me to be on a call with the U.K. in the morning, Brazil in afternoon, and then maybe pick up an e-mail in the evening from India or China," says Morrison, who works for internal communications. "I have the opportunity to stay in the Peoria area but also experience a lot of great global opportunities."
As the new towers rise, Peoria Mayor Jim Ardis says he expects other companies to become more interested in the city. "When you say Caterpillar, that iconic name, has committed to building a new world headquarters, people say, 'What does Caterpillar know that we don't know?' which is great for us," Ardis says. "We really feel confident a lot of these stars are aligning."
The bottom line: Caterpillar's plans for Peoria's downtown may hasten the development of housing and retail.
Before it's here, it's on the Bloomberg Terminal.
LEARN MORE