Tesla's Most Excellent Adventure, China Edition
The electric carmaker has high hopes in China. But anxiety about availability of power hurts sales
Alexandra Ho
It's a drizzly Monday morning along Shanghai's waterfront Bund district. My black Tesla Model S 85 is inching through rush-hour traffic as I embark on a 1,300-kilometer (807-mile) journey to Beijing. This is no ordinary road trip. I'm out to test Tesla Motors founder Elon Musk's statement in February that Chinese drivers are needlessly worried about the logistics of owning electric vehicles—that it's tough to power them up. "This is false," Musk told analysts on a conference call. "It is not difficult to charge your car in China."
Musk has good reason to want to reassure mainland drivers. Tesla has big ambitions in the world's biggest auto market. Doing well here would help the company reach its target of delivering 55,000 vehicles globally in 2015. Musk enjoys rock star adulation in the Chinese press, and there's no shortage of wealthy consumers who can shell out the $100,000-plus needed to buy a Model S on the mainland.
However, the luxury electric vehicle maker has had what Musk calls "unexpectedly weak" sales since its launch in the country in April 2014, and worries about running out of juice on longer trips appear to be one reason. China is known for its epic traffic jams, and analysts say "range anxiety" is a challenge for alternative-energy carmakers given the still-developing network of government-mandated charging stations.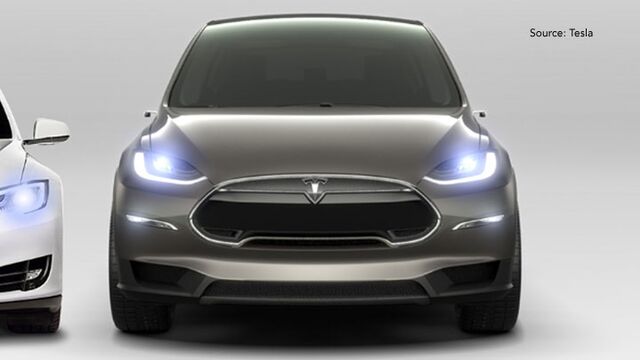 As my driver, cameraman, and I get under way and head northwest toward Nanjing on the Beijing–Shanghai highway, I start to map out the journey into 400km increments. That's the average range of a fully powered Tesla Model S 85. The trip will eventually take us three days. (A gas-powered car could probably get you there in a day and a half, but remember, we're out to save the planet here.)
In China, though, math is only part of the equation. Tesla has announced plans to make its vehicle power jacks compatible with state-owned charging stations when the Chinese government announces a standardized system. The government hasn't said when the standard will be ready.
For now, I have two options: first, Tesla Superchargers, or stations that can power up an electric car in roughly 90 minutes. In U.S. markets like California, these company-owned charging units are common on major highways. Here, I'm relying on Tesla's GPS navigation system and a smartphone app to find them. There are about 70 Supercharger stations available in China and 27 on this route, but none located on the highway we're taking; they're usually in the middle of cities or industrial parks. The second option is a network of more than 1,000 less-powerful "destination charging" stations, branded by Tesla but owned and managed by partner hotels, malls, and banks. Charging time: 12 hours.
The major cities on the journey to the Chinese capital—Nanjing, Xuzhou, Jinan, Cangzhou, and Tianjin—all have Superchargers, but they can be pretty far from highway exits. Traffic jams and side trips through the middle of congested city centers are going to make power management tricky.
The other wild card is Huai'an, hometown of former Premier Zhou Enlai, where I've figured we need to charge up on Day One. The city of 5 million lies between Nanjing and Xuzhou and has only a destination charger—the only one for about 200km. So we have no choice but to spend the night there while the car gets its lengthy plug-in.
On Day One, I start getting stressed barely outside of Shanghai as we encounter torrential rain. My dashboard power gauge shows a driving range of 270km, with 240km to go to my first planned charging stop in Nanjing. That's cutting it close, so I divert to the industrial city of Wuxi, 135km outside of Shanghai, to fuel the car at a Supercharger.
The partial charge takes about an hour. The good news: I have 402km of power. Not so good: We soon hit a massive traffic jam, with Huai'an still 281km away. Since Huai'an is about 200km from the nearest charging stations, I'll be in trouble if I don't make it to the destination charging station there.
At a rest stop on the way to Huai'an, we bump into Li Qiang, a businessman from Chongqing. He drives a gas-powered Jeep Grand Cherokee. He's intrigued by our Tesla and would like to own an electric car some day, but not now, he says. "If charging stations were as ubiquitous as gas stations, I'd be keen to buy an electric vehicle." We get to Huai'an with 49km to spare and settle in at the hotel with the power station.
China's government is determined to reduce the planning and creativity currently needed to take long trips in electric vehicles. Earlier this year, the State Grid Corporation of China began operating about 50 charging stations along the Beijing-Shanghai highway, and it plans to expand the network to serve 19,000km of highways by 2020. Calvin Lee, a vice president in Seoul for SNE Research, sees the Chinese electric vehicle market taking off in 2018, when prices fall and the charging infrastructure is built out. Tesla is also investing big. "Our plan is to put a Supercharger in any location that enables our customers to take long-distance road trips," says Gary Tao, spokesman for Tesla China.
There's also a community of Tesla owners throughout China keen to bail out fellow owners in case of emergency. Through a smartphone app, they form a "home charging network" by opening their homes or offices to other Tesla owners seeking a charging point. "People that buy Tesla cars would probably have a lot in common and should have a certain level of integrity, so I'm fine with opening up my home," says Chen Lin, a Model S owner in Tianjin who's part of the network.
Day Two: We make it to Xuzhou without a hitch and, after getting yet another full charge, head to Jinan, 320km away. But the vagaries of China's stop-and-go traffic trips us up once more. Our batteries wind down faster than expected, and we decide to make an unplanned side trip for a charge in Tai'an, about 80km before Jinan. We come across a destination charging station, but much of the property where it's located is still under construction, and the three available charging spots haven't been activated. We catch a break when the property manager makes some phone calls and gets permission to power us up. Two hours later, we leave Tai'an, confident we have enough juice to push on to Jinan. There, we find a Supercharger, power up fully, and make it to Cangzhou, 209km away, where we stop for the night.
Day Three: From Cangzhou, we're less than 300km from Beijing. Traffic is always insane in the capital, so we elect to stop in Tianjin (107km away) to fully charge the car before the final leg. Smart move. We make it to the so-called Fifth Ring Road, one of a series of highways surrounding the capital, and I catch a glimpse of Beijing's new CCTV tower. It's another hour before we inch our way to my office.
Tesla insists its Chinese buyers have little to fear, because owners charge their cars at home 95 percent of the time. "We are aware of and expected these perceived inconveniences, and that's why our strategy revolves around education," says Tesla spokesman Tao. But after three days of range anxiety, next time I'll take the train.
The bottom line: Tesla has about 70 high-speed Supercharger stations for its vehicles in China. But none are located directly on highways.
Before it's here, it's on the Bloomberg Terminal.
LEARN MORE