Should Political Campaigns Stop Using Free Labor?
Controversy flares over unpaid workers in Hillary Clinton's campaign.
By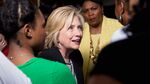 Carolyn Osorio, who graduated from Pratt Institute in 2013, seems to be a one-woman weapon against the axiom of apathetic millennials: She's a young person of political passion. In an op-ed column published Wednesday in USA Today, she describes high-school nights spent sleeping in a Hillary for America t-shirt and tears shed upon Clinton's concession to Barack Obama.