Kansas City's Lights Really Will Be Bright
Cisco and Sprint are teaming up on a $15 million wireless project
By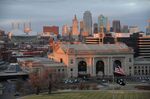 In recent years the government of Kansas City, Mo., has launched projects that rely on the Internet to improve particular aspects of city life—avoiding traffic jams, finding a parking spot, and getting a Wi-Fi connection at the local sports arena. Then, in early 2014, networking equipment maker Cisco Systems suggested a more ambitious approach: design a technology platform capable of handling all of those services plus others that have yet to be dreamed up.
The first phase of the 10-year, $15 million project will go into effect in spring, with the installation of 125 "smart" streetlights along the 2.2 mile route of a new streetcar line that will travel through the city's downtown. Cisco will supply most of the hardware, including some from partners such as Sensity Systems, which makes the sensor modules that will be embedded in the lights. Mobile carrier Sprint will maintain a Wi-Fi network throughout the area to handle the constant stream of data coming off those light poles. Smartphone users and area businesses will be able to tap the free Wi-Fi. The downtown will also be sprinkled with 25 digital kiosks, where visitors can look up information on landmarks and nearby shops and restaurants.
Cisco is funding an incubator so startups can develop and test apps that would exploit the IT infrastructure. "We focused on building a communications foundation first, rather than on any particular service," says Ashley Hand, who until recently was the city's chief information officer. "We're trying to create an ecosystem that will lead to the fast realization of new ideas."
Near term, the services will mostly deliver conveniences for tourists and residents of Kansas City's up-and-coming downtown, rather than cures for problems such as crime and aging infrastructure. Amy Glasmeier, an economic geography professor at Massachusetts Institute of Technology, says she'd prefer to see computer centers for those who don't own PCs or sensors to identify gas leaks. Hand acknowledges that the city opted not to pursue some potential uses of the technology, such as video surveillance by police, to avoid controversy.
Nonetheless, the plan marks a significant milestone in the U.S., where only a few cities have rolled out "smart city" technologies, and mostly in a piecemeal fashion. That's in contrast with Barcelona, Dubai, Rio de Janeiro, and other cities that have installed integrated systems designed by companies like Cisco, Siemens, and IBM. Research firm IHS says that by 2025 there will be 88 smart cities, mostly in Europe and Asia.
Clifford Thomas, a manager in Cisco's smart cities group, says Kansas City Mayor Sly James and Hand stood out for their willingness to think big. "Honestly, if the mayor or city manager asks us to prove this approach is worthwhile, we run for the door," says Thomas, who's juggling more than 120 projects in 63 cities worldwide. "We've got more than enough business to keep us busy."
The streetcar project presented an opportunity to install sensor modules in the poles that deliver streetlighting and power to the trams. The motion-activated LED lights could deliver savings of more than 80 percent over traditional streetlights, says Hugh Martin, Sensity's chief executive officer. The modules also have video cameras that can spot obstructions on the tram line, along with sensors to measure temperature and snowfall. Longer term, the city hopes to add in-ground sensors to parking spots, with software to let drivers refill meters remotely. There are also plans to embed moisture sensors on underground pipes, so leaks can be detected.
Kansas City will pay only $4 million of the project's cost. In the early years, the financial benefits will accrue in the form of savings on items such as electric bills. Longer term, the city could turn its smart infrastructure into a money maker. For instance, it could pocket a share of parking fees for directing sports fans to the nearest lots on nights when there are games at the Sprint Center.
The bottom line: Kansas City, Cisco, and Sprint are building a "smart" network to lower power costs and improve city services.
Before it's here, it's on the Bloomberg Terminal.
LEARN MORE