Jobless Claims in U.S. Hold Below 300,000 for a 16th Week
Michelle Jamrisko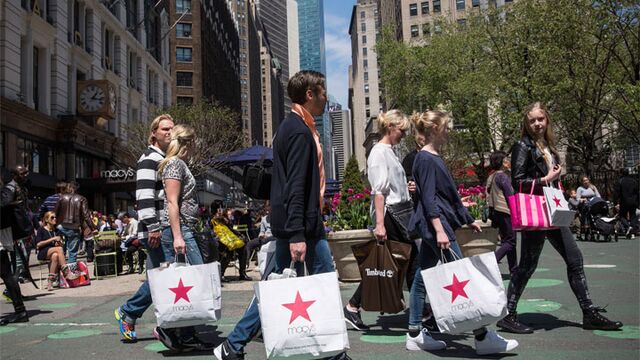 Filings for U.S. unemployment benefits held below 300,000 for the 16th straight week, signaling a tighter labor market that will help propel growth in the second half of 2015.
Jobless claims rose by 3,000 to 271,000 in the week ended June 20, a Labor Department report showed Thursday in Washington. The median forecast of economists surveyed by Bloomberg called for 273,000 new applications.
Limited personnel dismissals underscore employer optimism about sales prospects as the economy regains ground after a first-quarter setback. While staffing cutbacks have waned, more hiring would help convince Federal Reserve officials that the economy can withstand an increase in the benchmark interest rate this year.
"Companies are holding onto their employees very tightly, and it shows a strong need for labor," said Russell Price, senior economist at Ameriprise Financial Inc. in Detroit, whose projection for 272,000 claims was among the closest in the Bloomberg survey. "That implies very positive trends for job growth in the months and quarters ahead."
Since the beginning of March, claims have held below 300,000, a level that economists say is consistent with progress in the labor market.
Estimates in the Bloomberg survey of 48 economists for jobless claims ranged from 262,000 to 291,000. The Labor Department revised the prior week's reading to 268,000 from an initially reported 267,000.
Consumer Spending
An improving job market is helping stoke demand. A separate report Thursday from the Commerce Department showed consumer purchases climbed 0.9 percent in May, the most since August 2009. Personal income increased 0.5 percent for a second month.
Stock-index futures held earlier gains after the reports, with the contract on the Standard & Poor's 500 Index expiring in September rising 0.2 percent to 2,104.1 at 8:46 a.m. in New York.
No states were estimated last week and there was nothing unusual in the jobless claims data, a Labor Department spokesman said as the report was released to the press.
The four-week average of claims, a less-volatile measure than the weekly figure, dropped to 273,750 from 277,000 in the prior week.
Continuing Claims
The number of people continuing to receive jobless benefits rose by 22,000 to 2.25 million in the week ended June 13. The unemployment rate among people eligible for benefits held at 1.7 percent. These data are reported with a one-week lag.
At the same time, weaker global growth is causing some companies to cut back. Hershey Co. announced June 18 that the business will eliminate 300 jobs amid slowing growth in China. The Hershey, Pennsylvania-based chocolate manufacturer estimated it will save as much as $75 million before taxes, primarily in 2016.
On the other side of the employment picture, payrolls have shown more stable gains after the world's largest economy unexpectedly contracted in the first quarter.
Payrolls rose by 280,000 in May, the biggest increase in five months, and the unemployment rate edged up to 5.5 percent from 5.4 percent in April as more workers joined the labor force. So far this year, job gains have averaged 217,400 a month after 259,670 in 2014. The Labor Department is set to report June figures on July 2.
First Quarter
Gross domestic product in the U.S. fell at a 0.2 percent annualized rate, revised from a previously reported 0.7 percent drop, data from Commerce Department showed Wednesday in Washington.
Fed officials will be gauging progress in employment and the broader economy as they weigh whether to raise the benchmark interest rate this year for the first time since 2006. Some measures have yet to return to full strength, damping enthusiasm about the labor market, Fed Chair Janet Yellen has said.
"The participation rate remains below most estimates of its underlying trend, involuntary part-time employment remains elevated, and wage growth remains relatively subdued," Yellen said in a June 17 press conference at the conclusion of the policy makers' two-day meeting. "Although progress clearly has been achieved, room for further improvement remains."
The majority of economists surveyed by Bloomberg project the Fed officials will announce a rate rise at their September meeting.