Israeli Hotels: Don't Deport the Africans
As expulsions increase, hoteliers ponder where they'll find workers
By and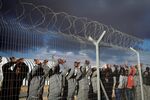 Israeli-born David Blum is proud of his country's history as a refuge for the persecuted. Why then, he asks, is the government stepping up efforts to deport African refugees? For Blum, the human resources chief at Isrotel, a hotel operator, the policy is also bad business: The Africans are the backbone of the restaurant and hotel industry.
More than 45,000 African asylum seekers—whom critics refer to as mistanenim (infiltrators)—reside in Israel, up from 3,000 in 2006, according to government statistics. Many Israelis say the migrants, mostly Muslims and Christians, threaten security and the country's Jewish identity. In March the government instituted a program that speeds deportations and imprisons migrants who refuse to leave. "The State of Israel will not be the solution to the ills of Africa," Justice Minister Ayelet Shaked said in a radio interview last year. Most of the Africans seeking asylum "are not refugees but labor migrants," she added. In early June, Shaked said a "tough law" will discourage Africans from coming to Israel.
The migrants, mostly from Sudan and Eritrea, work in all manner of service jobs and account for about half of Israel's 7,000 hotel maids and dishwashers, according to the Israel Hotel Association. "Behind every fancy dish, every clean hotel room, there is an Eritrean or a Sudanese," says Daniel Assaf, a cook at Claro, a restaurant in Tel Aviv. "Who exactly does the government think will fill those jobs? Israelis don't want them."
A visit to Claro's kitchen illustrates the dilemma. While Assaf, an Israeli Jew, seared the calamari and steamed the kale, Johnny Teame, an Eritrean, cut and seasoned the meat in the back. Five years ago, Teame traveled eight days from Sudan in a cramped Toyota with little water or food. The traffickers who organized the trip and charged Teame and the others thousands of dollars dropped them near the Israel-Egypt border, and gave them shovels to dig a hole under the fence. After getting into Israel the refugees trudged through the Negev until Israeli soldiers spotted them.
Teame spent three weeks in detention before he got a visa as an asylum seeker—and a bus ticket to Tel Aviv. He made his way to a park near the Tel Aviv bus station where migrants gather. With help from people he met there, he soon found work, and eventually ended up at Claro. "My life in Israel is all I have," he says. Returning home is out of the question for fear of imprisonment or worse. "I may never see my family again."
Over the past six decades, Israel has approved just 200 asylum claims for refugee status, which allows indefinite stays, according to the nonprofit Hotline for Refugees and Migrants. Thousands of others have been deported or are required to renew their visas every few months, with deportation a constant possibility.
In 2013, Israel finished a 152-mile fence along the Egypt border. Fewer than 70 migrants have made it into Israel since, vs. more than 10,000 in 2012, government statistics show. The government recently began sending letters to some migrants giving them 30 days to choose between leaving for an African country—with a $3,500 grant—or indefinite detention.
Before leaving the tiny apartment he shares with two friends, Musa Keeso makes sure he has his visa and receipts for his mobile phone and bicycle. He says the police once accused a friend of theft because he couldn't show a receipt for his phone. Israeli police say they aren't targeting Africans, but they do carry out identity checks and sometimes ask for receipts.
Keeso says he was tortured in a Khartoum displacement camp. If he went back he would face prison for visiting an enemy state. "It's crazy to think we would come here for the money," Keeso says. While he's happy earning about $1,000 a month stocking merchandise at a department store, he feels unwelcome. "Here you feel like you're losing your future."
The bottom line: As Israel steps up pressure on African asylum seekers, many must choose between deportation or detention.
Before it's here, it's on the Bloomberg Terminal.
LEARN MORE