Israel Needs African Migrants, So Why Is It Expelling Them?
Yaacov Benmeleh and David Wainer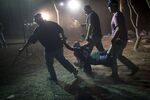 Born and raised in Israel, David Blum always thought of his country as a refuge for the persecuted. Why then, he asks, is the government stepping up efforts to deport African refugees? He says the policy is a betrayal of Israel's traditions -- and bad business given that the Africans are the backbone of the restaurant and hotel industry.