An iPhone Microscope to Help Eradicate River Blindness
CellScope Loa is a video microscope that attaches to an iPhone
By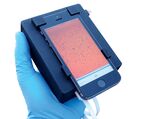 Innovators: Thomas Nutman and Dan Fletcher
Ages: 63 and 42
Head of clinical parasitology at the National Institutes of Health; bioengineering professor at the University of California at Berkeley
Background
A river blindness treatment campaign for sub-Saharan Africa has been thwarted for about two decades because the drug used was found to harm patients also infected with another parasite, called Loa Loa.
Form and function
CellScope Loa is a video microscope that attaches to an iPhone. A custom app screens a patient's blood to check whether he can safely receive treatment for river blindness, an insect-borne infection that affects millions.

1. Setup The iPhone clips to a plastic base housing the microscope, which a health worker loads with a small glass capillary of blood from a patient's finger prick.
2. Diagnosis The phone's camera records short video clips of the blood sample. Within minutes, CellScope's app reports how many Loa Loa parasites it spotted and whether the patient can take river blindness meds.
Origin
Nutman had been searching for ways to rapidly screen for Loa Loa when he heard that Fletcher's Berkeley lab was developing microscope attachments for phone cameras.
Tests
A study of 33 patients in Cameroon yielded zero false negatives and two false positives.
Funding
The $400,000 study was supported by the National Institute of Allergy and Infectious Diseases, the Bill & Melinda Gates Foundation, and Berkeley.
Next Steps
Fletcher and Nutman's team is taking 15 devices to Cameroon this summer and plans to spread 40 more throughout central Africa. Adrian Hopkins, director of the Mectizan Donation Program, who is working to eradicate river blindness, says a quick diagnostic tool would be a powerful asset. "You can go into a village, and you can exclude patients from treatment who are at a small risk," he says. "You can treat the rest."
Before it's here, it's on the Bloomberg Terminal.
LEARN MORE