Hospitals Rally as Supreme Court Upholds Obamacare Subsidies
Zachary Tracer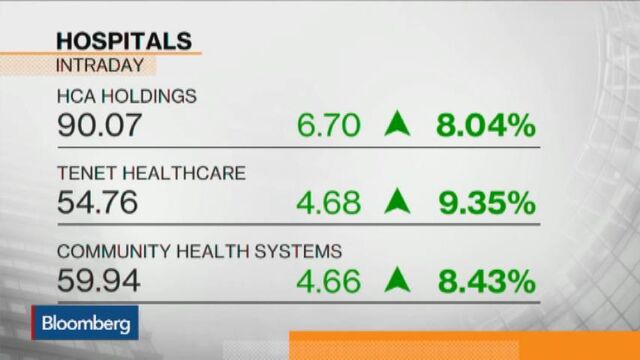 Hospitals led a rally among health-care companies as the U.S. Supreme Court upheld a key piece of President Barack Obama's Affordable Care Act, lifting the main threat hanging over the industry's prospects.
HCA Holdings Inc., Tenet Healthcare Corp. and Community Health Systems Inc. all gained more than 8 percent after the ruling. Health insurers also advanced.

The court ruled 6-3 that tax subsidies can be provided nationwide to help people afford health insurance on exchanges set up by the health-care overhaul. Obamacare has provided millions of paying customers for hospitals and health insurers, in part through the subsidies that were upheld today. The new clients have helped fuel a multiyear rally for health-care stocks, and more consumers are expected to emerge in the coming years.
"This was an ideal outcome for the hospitals and removed the biggest investors' concerns," said Michael Wiederhorn, an analyst at Oppenheimer & Co. "This decision allows the hospital stocks to again trade on their strong fundamentals."
The decision also helps ease the path to dealmaking among health insurers. Bloomberg News reported today that Aetna Inc. could reach a deal to acquire Humana Inc. as early as this weekend. Anthem Inc. went public with a bid for Cigna Corp. on June 20 that Cigna rejected.
Federal Exchange
Today's ruling keeps financial help flowing for about 6.4 million people who are getting subsidies in the 34 states that rely on the federal insurance exchange. It doesn't affect those buying policies in states like California and New York that run their own marketplaces.
HCA, the largest for-profit hospital chain, gained 8.8 percent to $90.72 at the New York close. Tenet jumped 12 percent to $56.21, while Community Health rose 13 percent to $62.45.
Stock gains at insurers were smaller, in part because subsidized customers make up a small proportion of the total business at the biggest firms. Still, the companies will benefit as more people purchase coverage in the future. Health insurer stocks also have rallied sharply in recent days amid speculation about mergers in the industry.
UnitedHealth Group Inc., the biggest U.S. health insurer, gained 2.7 percent to $122.33. Humana rose 7.1 percent to $197.37 after Aetna's offer was reported.
Government Funds
More than 10 million people have purchased insurance on the federal and state marketplaces set up by the health-care overhaul, and about 85 percent have received government funds to help them afford the coverage, according to the Centers for Medicare & Medicaid Services. The Congressional Budget Office estimates that more than 20 million people will sign up for coverage on the insurance exchanges in 2016.
For-profit hospital chains had about 2 percent to 5 percent of their earnings riding on the case, according to Bloomberg Intelligence.
Medical trade associations praised the ruling, with Steven Stack, president of the American Medical Association, saying the doctors' group is relieved.
The Federation of American Hospitals, which represents investor-owned facilities, called the ruling welcome news.
"The decision secures health-care coverage for millions of Americans," said Chip Kahn, the group's chief executive officer, in an e-mail. "Protecting patient coverage provides peace of mind to so many."