Claire McCaskill Tells the Media to Calm Down About Bernie Sanders
He's too liberal and Hillary Clinton's poll numbers are too strong, the Democratic senator says.
By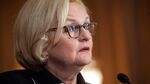 Democratic Senator Claire McCaskill of Missouri said Thursday that the media is giving presidential candidate Bernie Sanders too much credit because of its hunger for a competitive primary race.
"Any other candidate that had the numbers that Hillary Clinton had right now would be talked about as absolutely untouchable," McCaskill said on MSNBC's Morning Joe. "Bernie is too liberal to gather enough votes in this country to become president."
McCaskill's read on the situation comes as two new Bloomberg polls show the Vermont senator, a self-described socialist seeking the Democratic nomination, gaining on the former secretary of state in New Hampshire and Iowa. Clinton still has at least 50 percent in each state, according to the polls.
But coverage of the race paints a different picture, McCaskill said: "I think the media is giving Bernie a pass right now."
Asked about the large audiences turning out for Sanders's events, she said crowd size doesn't necessarily translate to poll success.
"Rand Paul's father got massive crowds, Ron Paul," she said, referring to the father of the Kentucky senator and presidential candidate who ran in 2012. "Pat Buchanan got massive crowds. It's not unusual for someone who has an extreme message to have a following, and massive is relative. I think Hillary had a massive crowd at her announcement, certainly as large as any crowd that Bernie Sanders has had."
McCaskill, who backed President Barack Obama in 2008, was quick to throw her support behind Clinton this time around. She endorsed the pro-Clinton effort Ready for Hillary back in 2013, becoming the first lawmaker to support Clinton's then-prospective bid.
On MSNBC, McCaskill said she could see why Sanders's platform might resonate with Democrats. 
"I think Bernie Sanders has a message that is touching people's frustration, and I totally get that, but so does Hillary Clinton," she said.