Citigroup's Larsen Adds U.S. Consumer Banking to His Duties
Dakin Campbell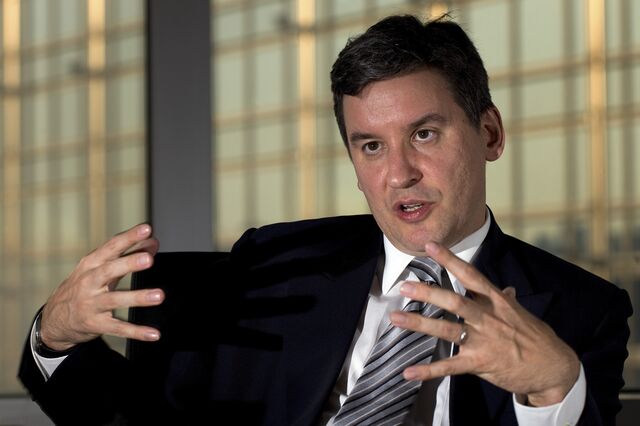 Citigroup Inc. said Jonathan Larsen will add oversight of U.S. consumer banking and mortgages to his role as global head of retail banking, the first major management change announced under new consumer leader Stephen Bird.
Larsen, who held his previous job since 2012, will take on the new duties effective immediately, according to a memo Thursday from Bird, chief executive officer for the global consumer bank. Larsen worked closely with the former U.S. consumer banking chief, Jane Fraser, but didn't oversee the region.
Bird's changes come less than 10 weeks after the April announcement that put him in his job and sent Fraser to run Latin America. Citigroup's U.S. consumer strategy includes selling outlets outside the largest cities, redesigning branches to make them more digitally advanced and revitalizing the mortgage business.
"Banking with us should be radically simpler," Bird wrote in the memo. "We must accelerate our efforts to build a single, globally common business and intensify our focus on designing the future of banking."
Larsen will split his time between Hong Kong and the U.S. The change makes retail banking and mortgages a standalone business in line with global cards, run by Jud Linville, and global commercial banking, supervised by Sunil Garg.
New Reports
Larsen's additional responsibilities mean that Will Howle, head of U.S. retail banking, and CD Davies, head of mortgage, now report to him. Richard Banziger, the chief of U.S. commercial banking who had reported to Fraser, will now report to Garg.
Anand Selvakesari will lead consumer banking in the Asia Pacific region, and Fabio Fontainha, the Brazil consumer chief, will run the Latin American business as the current chief, Raul Anaya, pursues another job within the bank, according to the memo. Those appointments take effect July 1.
Selvakesari was previously Southeast Asia and India head of consumer banking, according to a separate statement from Citigroup. Before that, he ran retail banking operations in China and India. Citigroup generated $7.5 billion of revenue from consumer banking in Asia last year, just over half of total revenue for the region.
Citigroup CEO Michael Corbat chose Bird in April to replace Manuel Medina-Mora as CEO of the consumer bank, one of the firm's two main divisions and a business with $36 billion in annual revenue. Corbat's announcement also moved Francisco Aristeguieta to take Bird's former job as Asia Pacific CEO.
Before it's here, it's on the Bloomberg Terminal.
LEARN MORE