politics
Bobby Jindal Enters Race With a Speech Unlikely to Win Fans
Analyzing the style, substance, and impact of the Louisiana governor's presidential announcement.
By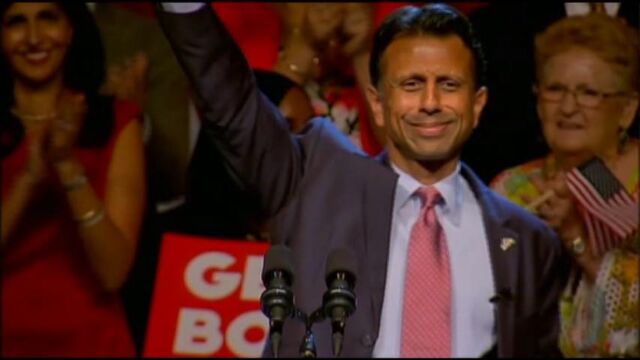 Style: Intense and brisk from the start, occasionally raising his voice to a shout. Generic writing in a speech replete with clichés undermined his claim on being a special, different kind of candidate. Numerous purposefully crafted applause lines and an eagerly enthusiastic home-state crowd combined to produce a lot of stop and start, which seemed to disrupt his momentum. Beyond the obvious ovation cues, his humor lines rarely hit. In the few instances when he allowed his natural genial charm and smarts to shine through, he scored.
Substance: Talked about new ethics laws, education reform, and spending cuts in his state, but didn't explain how those would serve as federal blueprints. Advocated term limits and the repeal of Obamacare, but with no specifics. Was no more concrete on foreign policy or national security.

Best moment: Confidently took on Jeb Bush by name, accusing him of not being a full-throated conservative–a bold move that demonstrated the kind of moxie he'll need to break out—and up—from the bottom of the pack.
Worst moment:  Started off with the tale of his parents' immigration story, but without the passion, import, or sentiment that he feels about it, and that it actually deserves.
Overall: Made an attempt to appear self-assured by injecting his tone with energy. But his heavy reliance on a written text for his formal announcement drained his performance of the conversational flair at which he excels on the stump. Chose to be a confrontational warrior (cultural and otherwise), rather than an optimistic man of ideas. Only occasionally flaunted his winning super-nerd appeal. Nothing fundamentally wrong with the event, but it showed off neither his brilliance nor his political talent, and thus is unlikely to change how people think about him or his standing in the polls.
Note: The overall grade is not an average of the style and substance grades, but takes into account other aspects of the announcement, such as staging and crowd reaction.  In addition, a candidate's overall grade reflects the degree to which the candidate's standing in the race is improved by the event and performance.
Before it's here, it's on the Bloomberg Terminal.
LEARN MORE