Why Zoë Baird Thinks the Zappos Strategy Can Save American Jobs
Baird's Markle Foundation is announcing public-private partnerships with the state of Colorado and the city of Phoenix.
By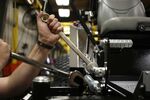 Zoë Baird knows from frustration, and she's been feeling frustrated. Sitting in an office high up in Rockefeller Plaza, floors above a gilded mural depicting the history of transportation—which ends, of course, in flight—she worries that Americans today have been grounded. Jobs they're seeking don't match with the skills they have, or the degrees they need. A recent study, for instance, showed that 65 percent of job postings for executive assistants call for a bachelor's degree, when only 19 percent of those in these roles have a B.A. "Is that a change in the skills in the job?" she wondered. "Or is that due simply to an inflation—because people coming out of college don't have other options?"
Baird has a word for the American workforce.
Zappos.
At the e-retailer, any shoe-lover's stalwart, "you can pick the color and the width and the heel height and the brand and all of that," Baird told me. "We need a labor market where there's that transparency in every job, so that someone can shop for a job the way they shop for shoes, with a real understanding of: What are the skills that are needed for the job?"

It has been 22 years since Baird burst into national headlines—somewhat ignominiously, as it turned out. In 1993, she narrowly missed becoming the nation's first female attorney general in the wake of revelations that her family hired undocumented workers. (The controversy was known, even in the pre-hashtag universe, as "Nannygate.") At 63, she heads the Markle Foundation, where she's determinedly trying to help American workers make sense of the labor market.
This week, her organization is announcing two major public-private partnerships to upgrade the skills of American workers; "to Build a 21st Century Digital Labor Market to Create More Opportunities [for] Middle-Skill Jobseekers," in the group's characteristically jargony language. 
The plan is to launch initiatives between government and companies including LinkedIn and edX to help improve worker skills; the pilot initiative is called Rework America Connected. Colorado will be the first state to participate, and Phoenix the first city—two areas, Baird said Tuesday from Denver, where she had travelled for the launch, "with growing economies but also tremendous need." In Colorado, Governor John Hickenlooper, a Democrat, is joining with Intertech Plastics and Kaiser Permanente Colorado for the enterprise. Phoenix Mayor Greg Stanton, also a Democrat, has joined with the Maricopa Community College System and with Arizona State University, whose president, Michael Crow, has been a pioneer in online learning. (Starbucks' collaboration with ASU—the "College Achievement Plan," which helps employees to earn their degrees online—came out a Markle Foundation meeting held in July 2013).
Daughter of a union man
Baird is the daughter of a union man; her father was a maritime radio operator and an official of the American Radio Association, AFL-CIO. "They would ship out for six months," she told me. "And then they'd come in and be onshore for six months, and use that time for training." The technology was changing fast, and radio operators were less and less necessary on the ship. But every day away from sea, "they'd go to the union hall—and go back out with a whole new set of knowledge and skills."
According to a recent study from Oxford, technology puts as many as 47 percent of American workers at risk of obsolescence. But far fewer have a union hall where they can learn new skills.
The Markle Foundation has brought together 56 members and cosigners for the ReWork America initiative. They run the ideological gamut from well known Democrats such as  Secretary of State Madeleine Albright (now based at the Albright Stonebridge Group) and Senator Cory Booker of New Jersey, to Republican stalwarts such as former Indiana Governor Mitch Daniels (now head of Purdue University), and former Republican National Committee Chairman Kenneth Mehlman (who now works for Kohlberg Kravis Roberts). The strange bedfellows also include Walter Robb of the aggressively non-union Whole Foods and Elizabeth Shuler of the AFL-CIO. Also part of the Phoenix initiative is Walmart. The box store behemoth is boasting its commitment to "increasing economic mobility for retail workers." 
Philip Zelikow, the historian, former diplomat and former director of the 9/11 Commission who today serves as dean of the University of Virginia's Graduate School of Arts and Sciences, helped to write America's Moment, a book Markle has released as part of the new initiative. He and Baird say the best outcome is not to replace human labor with machines but to link the two, empowering workers. Baird spoke of training home health aides to interpret sensors, for instance, to communicate in real time with doctors' offices. This would, she said, "reduce the number of doctors' visits or emergency visits to the hospital, which is a very common thing with elderly people." A win on health, on wages, on retention, she argues.
'Zombie Idea'
Critics on the left might disagree with Baird's and Zelikow's emphasis on a skills shortage. Paul Krugman last year called "the belief that America suffers from a severe 'skills gap' . . . a prime example of a zombie idea — an idea that should have been killed by evidence, but refuses to die." He wrote, "If employers are really crying out for certain skills, they should be willing to offer higher wages to attract workers with those skills." Lawrence Mishel of the Economic Policy Institute has worked to debunk the skills gap as "mythical."
Zelikow frames the efforts in historical terms. "We used to have these unskilled, illiterate laborers." And then electricity came. "It means every worker has his own power.  Every worker can have his own workbench. So you completely redesign the factories into these long, one-story buildings that can be located in cities and suburbs that you see now, dotting America." The technological change prompted business and community leaders to push a "universal high school movement that transformed the American workforce," Zelikow said.
"It requires imagination to think this way, to take advantage of the technology. And it requires really valuing the people in your organizations as assets.  We have a culture which you see in the tax law in the accounting rules in which a machine is an asset and a worker is a cost."