Tsipras to Meet Creditors in Brussels for Aid Talks
Marcus Bensasson and Nikos Chrysoloras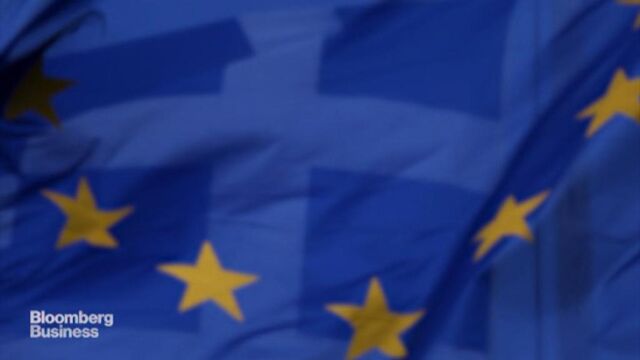 Greek Prime Minister Alexis Tsipras heads to Brussels Wednesday to try and narrow differences with creditors over his reform proposals to unlock needed aid.
Tsipras will meet in the afternoon with European Central Bank President Mario Draghi, International Monetary Fund Managing Director Christine Lagarde and European Commission President Jean-Claude Juncker in an effort to reach a deal before Greece's bailout expires and about 1.5 billion euros ($1.7 billion) in payments come due to the IMF on June 30.
Tsipras on Monday proposed a package of measures that includes tax increases on companies and high-income individuals to meet fiscal targets set out by creditors to receive billions of euros in needed financial assistance. While hurdles remain -- including votes in the German and Greek parliaments, and figuring out how to pay the IMF -- analysts say a solution will likely be found.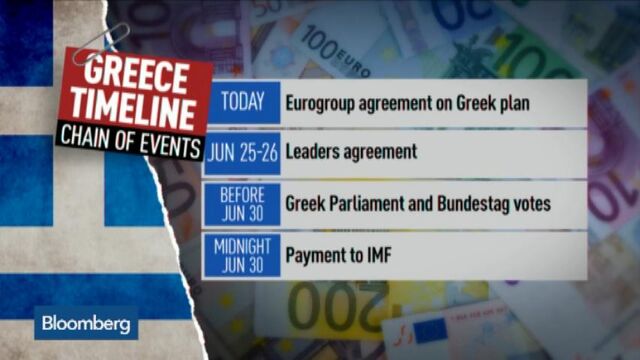 "We have now seen enough progress for the finishing line to have become visible," Erik Nielsen, a Unicredit SpA economist in London, wrote in a note to clients. "Failure from here is difficult to envisage. This means that various liquidity measures will be employed, as needed, until it's all signed off -- and the risk of arrears has significantly declined."
Following Tsipras's talks in the afternoon, euro-area finance ministers will come together Wednesday evening -- their third gathering in a week -- for an emergency meeting to help hammer out a deal to avert a Greek default.
Deal Optimism
"I am absolutely convinced that in a few days an agreement will be reached," Spanish Prime Minister Mariano Rajoy said on Tuesday. "The goal is that Greece remains in the euro, so the amounts remaining from the second program can be drawn down."
On Monday, Lagarde told her executive board she was optimistic a deal was at hand and that she expected Greece to pay the money it owes the IMF on June 30, according to a person familiar with the matter. Publicly, Lagarde had struck a more cautious note, saying there was an "enormous" amount of work left to do.

The two sides are still far apart on what prior actions need to be taken to receive assistance as well as in a number of other areas, according to a euro-area official, who asked not to be identified because the talks are private. There are still many sticking points, the official said.
Greek government bonds and stocks were trading mostly lower on Wednesday after rallying for the past two days. The yield on the 2-year bond rose 17 basis points to 21.2 percent at 11:06 a.m. in Athens. The Athens Stock Exchange index opened 2.1 percent lower after gaining 15 percent since Monday.
Balanced Plan
The Greek proposals include steps to eliminate early retirement options, raise the sales tax, increase taxes that middle- and high-income earners pay and introduce a new levy for companies with annual net income of more than 500,000 euros.
The plan is "balanced," Greek Economy Minister George Stathakis said in an interview with Athens-based Mega TV. He predicted that Greece would reach a final agreement with creditors and said the IMF would be "flexible" if there was a "technical" delay in making next week's repayment.
If finance ministers reach an agreement Wednesday evening, leaders could sign off on the deal at a two-day European Union summit starting on Thursday.
German Vote
Greece will need to commit to so-called prior actions to unlock funds, according to European Commission spokesman Margaritis Schinas. "We would like these prior actions to be spelled out in the form of a list, of a complete list, of deliverables," Schinas told reporters Tuesday in Brussels.
Even if a deal is secured, it may come too late for Greece to receive aid in time for its IMF payment. Germany, the country contributing the most to Greece's twin bailouts, has insisted that Greek lawmakers take the first step by passing economic-policy changes before the German lower house of parliament will agree to a revised aid deal.
Germany's Bundestag could vote June 29 or June 30 on any rescue agreement, provided Greek lawmakers pave the way by approving bailout measures over the weekend, a German parliament official said.
"The institutions have made it clear that they will not disburse any money before the Greek parliament approves the needed legislation and implements prior actions," Athanasios Vamvakidis, a strategist at Bank of America Merrill Lynch, wrote in a client note. "These requirements make it unlikely that Greece will receive new official loans by June 30."
Read this next: