Ted Cruz Takes Aim at 'Washington Cartel'
Republican presidential candidate plans to make his unpopularity on Capitol Hill a campaign calling card.
By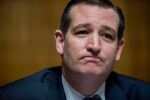 Senator Ted Cruz showed today how he intends to capitalize on the anti-Washington, obstructionist persona he's worked hard to perfect.
In a speech to the Heritage Foundation in Washington, Cruz outlined the populist theme he'll take across the country in his bid for the 2016 Republican presidential nomination, taking aim at big U.S. banks, lobbyists, corporate "welfare" and the "Washington cartel."
The Texas first-termer portrayed himself as a victim of the "corrupt, backroom deals'' that, in his view, dominate Washington. Cruz said he's been "vilified" by Democrats, Republicans and the media for bucking congressional leaders on issues running the gamut from raising the debt ceiling to a vote yesterday granting President Barack Obama negotiating authority for international trade agreements. Cruz unsuccessfully opposed both.
"The Washington cartel has amassed more and more power at the expense of the American taxpayer with the same recipe repeated over and over again," he said. 
"Washington is looking for solutions for Washington," he added, declaring that those "invariably help the rich and well connected."
Opposes Ex-Im Bank
Cruz singled out for criticism the U.S. Export-Import Bank, whose practices he called tantamount to corporate "welfare," the Dodd-Frank banking legislation that he said has suffocated community banks and government subsidies for ethanol and sugar.
All of the 2016 presidential contenders are trying to weave populist rhetoric into their stump speeches in an effort to address rising income inequality in the U.S. But Cruz's approach of blaming Washington for the economic anxieties many Americans are experiencing speaks to the limited government, anti-establishment wing of his party's conservative base voters.
Rivals' plans
The senator, who was the first major presidential candidate to launch a campaign for the the White House in March, has yet to release an economic plan. Some of his rival candidates already have done so. Kentucky Senator Rand Paul has proposed tax breaks to help companies investing in poor communities and Senator Marco Rubio of Florida has called for revamping programs for the poor and middle class.
Cruz's speech signals that he plans to make a selling point of his role obstructing bipartisan legislation on budget and spending agreements, raising the debt ceiling, pro-immigration policy and surveillance laws.
When he was asked "how can we be sure that you are not part of this mess?" during a post-speech question-and-answer session, Cruz boasted that  he's become a pariah in his party, even sharing an anecdote about one closed-door luncheon where fellow Republicans "screamed and yelled" at him for not going along with legislation to raise the debt ceiling.
"You can say a lot of things about me, but beloved by my colleagues in Washington is not one of them,'' said Cruz.