The Fan Who Raised the Dead
Inside Peter Shapiro's $40 million jam band bonanza
By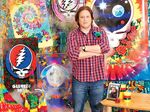 Outside the Capitol Theatre in Port Chester, N.Y., music promoter Peter Shapiro is sucking down a Marlboro and chatting with a security guy about the crowd inside seeing Grateful Dead bass player Phil Lesh. No major disruptions, the guard says, just somebody who puked while waiting in line. Shapiro laughs. He looks like an aging Jeff Spicoli and fits in among all the Deadheads. He walks to grab a Jack-and-Coke from the bar, where he's greeted by several fans who recognize him from his two decades spent promoting the kind of improvisational rock the Grateful Dead made famous. "Pete Shapiro!" booms a middle-aged dude, blocking his path. "Thank you! Thank you! Thank you! You make my life better."
That's because Shapiro, 42, is behind the farewell concerts that surviving members of the Dead will play in Santa Clara, Calif., (June 27-28) and Chicago (July 3-5). The performances by Lesh, Bob Weir, Mickey Hart, and Bill Kreutzmann, along with Phish guitarist Trey Anastasio subbing in for Jerry Garcia, who died in 1995, are among the most in-demand in years. They come 50 years after the band formed in Palo Alto and five years since the four musicians last played together.

They claim it's their last time on stage together, so the five nights are expected to net roughly $40 million in ticket sales alone. It's on par with the $45 million the band earned in 1993, when it played 81 shows and became the top-grossing tour act in the world. Today, a top pop group like, say, One Direction, can earn $6.4 million on a good night. The Dead are expected to do more than $8 million each evening. Of that, Shapiro and his business partner, Madison House Presents, will split at least 5 percent.
The Grateful Dead had plenty of suitors once it considered reuniting for its 50th anniversary, with superpromoters such as Live Nation Entertainment and the organizers of the Bonnaroo and Coachella festivals all making pitches. What Shapiro lacked in name recognition or infrastructure, he made up for in personal relationships, having built up a jam band niche in the past 20 years. He owns the magazine Relix, dedicated to the scene, along with several venues, including the Capitol Theatre and the chain of Brooklyn Bowls. He's especially close with Lesh and Weir, who've played his stages before. "I like working with Pete because he wants to create situations that enhance the experience on many levels," Lesh says.
Promoting aging rockers is a surprisingly good business proposition. Younger artists struggle to fill an arena in an era of free streaming, but older acts such as the Eagles, the Who, Rolling Stones, Fleetwood Mac, and Billy Joel—who's taken up residency at Madison Square Garden—continue to be among the most lucrative tours. The Dead came early to this idea, having focused on performing live and building a fan community for most of its career. Many of their longtime followers have since amassed fortunes. So Shapiro arranged VIP packages that run as high as $5,000 and provide access to an open bar, tie-dyed paraphernalia, and other perks. "The people buying the packages today would never have in their earlier years," says Dan Berkowitz, who runs CID Entertainment, which is coordinating the deals. One customer told him "a VIP package back in the day was when the rest stop had a shower."

Shapiro has been a Deadhead since those days. In March 1993, he went with a friend from Northwestern University to see the band play and "saw these kids like me, you know, in their early 20s," he says. "But they weren't going back to college that night. They were on the road." After graduating he filmed a documentary about the Dead's fans that led him to New York concert organizer Larry Bloch, who owned Wetlands Preserve, a rundown but famous music club in Lower Manhattan. Bloch wanted out of the business and offered it to Shapiro for "basically nothing," he says.
By 2001, Shapiro had to close Wetlands because he could no longer afford Tribeca's rising rents. He worked as an independent promoter, organizing concerts for Earth Day and Barack Obama's first inauguration. In 2009 he opened Brooklyn Bowl in Williamsburg, a club with tricked-out bowling lanes opposite a small stage. It became one of New York's most popular venues and spread to Las Vegas and London.
Last year, Shapiro spent months persuading each Grateful Dead member to do the shows. Some of the relationships were strained after decades of knowing each other. ("Dysfunctional? Yes, but still a family," says Tom Bailey, who used to work with Bill Graham, the band's longtime promoter.) After Garcia died, there were fights over money and musical direction. All are past retirement age, and years on the road have taken their toll. A TV special was briefly considered. But by early January, after much coaxing, Lesh called to say the band would work with Shapiro. "There were times it was on and off," Shapiro says. "I had to reach into the toilet sometimes."
Ticketing has been a bigger headache. Since the group first started touring, it's sold tickets to people who send in mail orders to Grateful Dead headquarters in California. In an attempt to honor that tradition, Shapiro set aside 10 percent of the tickets at Chicago's Soldier Field. It backfired. After they sold out, many fans watched angrily as prices on the resale market climbed above five digits. For the Santa Clara concerts, Shapiro tried something different. He negotiated an unprecedented deal with Ticketmaster, which has exclusive rights to the stadium, to permit all seats ($59.50–$199.50) to be sold through an online lottery. "Removing Ticketmaster was an accomplishment unlike anything I've seen in the music business in a long time," says Roger McNamee, a Silicon Valley venture capitalist who's a friend of the band's.
Other issues arise every day: coordinating performer schedules, booking practice venues, and speaking to vendors. An issue Shapiro resolved only recently was how to organize the parking lot outside the concerts—home to amateur jam sessions, vegetarian burrito stands, and the copious use of bongs during the band's heyday. In a deal worked out with the Chicago Police Department, a portion of Soldier Field's lot will be open to the public, and another section will be reserved for ticket holders.

Most mornings, Shapiro is in his Lower Manhattan office by 9 a.m., drinking the one Red Bull he allows himself per day. His space is filled with memorabilia from his career—a poster of the Flaming Lips' singer, Wayne Coyne, playing on the National Mall; Lesh performing at the Capitol Theatre; a shot of Garcia hung behind the door. Dozens of framed photos are stacked on the floor as if Shapiro is still deciding which to hang. He can't sit still, standing repeatedly to find images that punctuate a story. "I met Ken Kesey while doing the documentary," he says, pulling out a picture of the author behind the wheel of a tie-dyed school bus. On his desk he has a bobblehead of himself wearing jeans and a checkered shirt. He's wearing the same thing.
By 8 p.m. most nights, Shapiro's off to see shows. Backstage at the Capitol Theatre, Lesh embraces him. A few days earlier was Lesh's birthday, so Shapiro bought cake for the audience, which serenaded the bassist, 75, with an off-key rendition of Happy Birthday. Just as Lesh's band was about to resume the set, Shapiro got back in his car to stop by Brooklyn Bowl, where the band Soulive was performing with the Roots' drummer, Questlove. He can't walk a few steps without being stopped by a friend or somebody who wants to be his friend. He stays about an hour, then he's back in his Audi SUV, complete with children's car seats. He'll be up in a few hours to take his two kids to school.
Once that's done, he resumes pecking at an iPhone in a case equipped with a BlackBerry-like keyboard. There was a problem with the sound equipment supplier. He's also become obsessed with Chicago's weather. Rain will alter the mood; if there's lightning, the crew will need to go through an annoying rigmarole to keep fans safe. He says he'll be troubleshooting during the shows, not watching them. "Someone said to me, 'If it goes well, you're Bill Graham forever,' " Shapiro says. " 'If it doesn't, you're f---ed.' "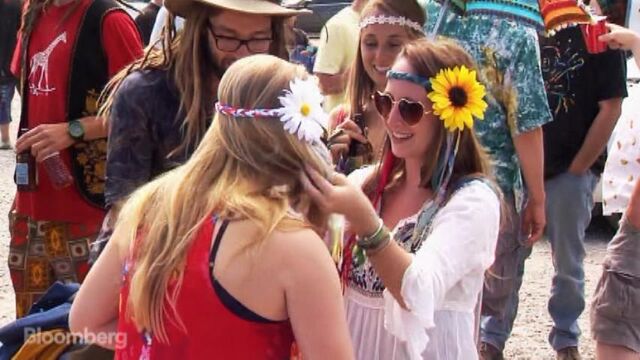 Before it's here, it's on the Bloomberg Terminal.
LEARN MORE