Palantir Seeks New Funding at $20 Billion Valuation
Eric Newcomer and Leslie Picker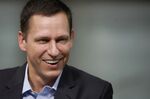 Palantir Technologies Inc. is in talks with investors to raise $500 million in a round of financing that values the data-analysis company at $20 billion, people with knowledge of the matter said.
Discussions are ongoing, said the people, who asked not be identified because the details are private. Palantir last raised money in late 2014 at a valuation of $15 billion, and had been seeking new financing to expand its business.
Palantir, based in Palo Alto, California, had more than $1 billion in bookings in 2014 and still has $1 billion in the bank, according to one of the people. The technology company, which was co-founded by investor Peter Thiel in 2004, builds software that ties databases together to make it easier to search and analyze information. Its clients include police agencies, intelligence services and financial institutions.
First-quarter bookings more than doubled from a year earlier, and about three-quarters of Palantir's new business is from commercial customers instead of the government, the person said.
BuzzFeed first reported that Palantir was in funding talks. Lisa Gordon, a spokeswoman for Palantir, declined to comment.
Palantir's last financing round, completed in November, was $500 million, people with knowledge of the matter said at the time.