Osborne's Cities Push Risks Debt Buildup as Center Cedes Powers
Jillian Ward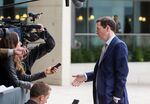 Chancellor of the Exchequer George Osborne's push to rebalance the British economy away from London risks chafing against his other big priority: cutting the budget deficit.
While his policy of granting more powers to regions comes with the gloss of enhancing local autonomy, it might come at a cost, according to experts including Andrés Rodríguez-Pose. The London School of Economics professor sees a danger that local councils might loosen the purse strings.
"There's no direct link between those taxing and those actually spending the money," he said in an interview. "So local governments would possibly overspend, and in the longer term that spells disaster."
In his first speech after the Conservatives were re-elected in May, Osborne pledged "sweeping devolution" for English cities as part of his plan to create a so-called Northern Powerhouse. Manchester will get an elected mayor responsible for transport, housing, planning and policing -- and the door is open for other cities to do the same. Prime Minister David Cameron's new Conservative government has also pledged further devolution for Scotland and Wales.
Local governments in England account for about a quarter of public spending, yet they have limited powers over the revenue they receive. Most comes from central government, which has imposed severe cutbacks in recent years to tackle a national deficit that still stands at almost 5 percent of gross domestic product.
Borrowing Powers
Councils can borrow to help finance capital spending, and that option has been made easier by the creation of a local authority-backed municipal bond agency that aims to cut the cost of loans and plans to issue its first debt securities within weeks.
Most councils have traditionally had to borrow from an arm of the Treasury at 80 basis points above same-maturity gilt yields. In the bond markets, companies with the highest debt rating pay 48 basis points more than benchmark debt, Bank of America Merrill Lynch data show. Local authorities owe about 87 billion pounds ($137 billion), or 5 percent of gross U.K. debt.
"There are relatively few regular sterling issuers in the market," Aidan Brady, chief executive officer of the municipal bonds agency, said in an interview. "Sub-sovereign issuers coming in are going to be very warmly welcomed."
Unfunded mandates, soft budget constraints and the shifting of capital to current expenditure are all risks that might increase the price local authorities have to pay for borrowing, according to Rodríguez-Pose.
Debt Costs
"Unless there is a more direct connection to their sources of revenue, the risk that in the medium and long-term subnational governments may have to pay a premium for their debt is relatively high," he said. "Westminster has a tendency to transfer more powers than actual resources."
The Treasury in London said in response to questions from Bloomberg that local authorities have a statutory duty to balance their budgets.
Kathrin Muehlbronner, vice-president of Moody's Sovereign Risk Group, expects the central government to maintain tight control over the finances of regions granted devolved powers.
"In more federalist structures you need strong control by central government or broad agreement among the different levels of governments over the need to maintain a low deficit to maintain the same credit profile," she said.
Scottish Bonds
The Local Government Association, which represents councils in England and Wales, says it wants regional authorities to have more control over revenue. Scotland has been pushing for "full fiscal autonomy" since its referendum on independence last summer. The governmentin Edinburgh now has the right to issue 2.2 billion pounds of its own bonds and there are plans to grant similar powers to the devolved administration in Wales.
"If it turns out that this is in no way a stunt but actually does decentralize decision-making in Britain, then in the long term you could see some impact on the balance of the U.K. economy," John Gieve, a former deputy governor of the Bank of England, said of Osborne's devolution push. "If you're a Warren Buffet-type, long-term investor, then you might be interested in how this will play out in terms of the supply side. In the short term, there could be more interest in the impact on local-government debt."