Mississippi Senators Support Changing Confederate-Themed State Flag
Thad Cochran joins his colleague Roger Wicker and the state House speaker.
By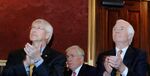 Mississippi Senator Thad Cochran joined his Republican colleague, Roger Wicker, on Wednesday in calling for removing the Confederate symbol from their state's flag.
The united front by Mississippi's two senators isolates Governor Phil Bryant, a Republican who so far has refused to join the nationwide move to eliminate the stars and bars from official regalia. Mississippi House Speaker Philip Gunn, a Republican, has also called for replacing the flag. 
Mississippi's senators are among the latest prominent politicians to call for removing symbols of the Confederacy in the wake of the shooting of nine African-American worshippers in a South Carolina church last week.
Cochran, who has represented Mississippi in the Senate since 1978, had refused to on Tuesday, but on Wednesday, hours after his junior Senate colleague issued a call for changing the flag, Cochran came around.
"As a proud citizen of Mississippi, it is my personal hope that the state government will consider changing the state flag," he said in a statement. "The recent debate on the symbolism of our flag, which belongs to all of us, presents the people of our state an opportunity to consider a new banner that represents Mississippi. I appreciate the views of my friend and colleague Roger Wicker, and agree that we should look for unity and not divisiveness in the symbols of our state."
Wicker said that the decision is up to the Mississippi legislature but that he'd "welcome" the opportunity to help achieve consensus. He cited Biblical inspiration, noting that the Apostle Paul, in I Corinthians 8, said that while he had no personal objection to eating meat, "if food is a cause of trouble to my brother or makes my brother offend, I will give up eating meat."

"After reflection and prayer, I now believe our state flag should be put in a museum and replaced by one that is more unifying to all Mississippians," Wicker said in a statement. "As the descendant of several brave Americans who fought for the Confederacy, I have not viewed Mississippi's current state flag as offensive. However, it is clearer and clearer to me that many of my fellow citizens feel differently and that our state flag increasingly portrays a false impression of our state to others."
Bryant, who faces re-election in November, said Tuesday that Mississippians voted to keep the flag in a 2001 referendum but that they "have the right to revisit that decision," though he did not indicate he wants to do so.
As recently as Monday, Wicker had refused to take a position on removing the Confederate flag amid a heated national debate. Cochran, the state's senior senator, said Tuesday that "I'm not involved in the discussion of it one way or the other." Their change of heart follows Republican South Carolina Governor Nikki Haley's call, at an emotional press conference where she was surrounded by a bipartisan delegation of lawmakers and Republican National Committee Chairman Reince Priebus, for removal of the Confederate flag that flies on the grounds of the South Carolina capitol.
The lone Democrat and lone African American in Mississippi's congressional delegation, Representative Bennie Thompson, said there is a "deep feeling" against the flag. "I've not seen anything like this move this fast," Thompson said. "So I'm optimistic."