business
Greece Won't Sell Public Power Corporation, Minister Says
Paul Tugwell and Nikos Chrysoloras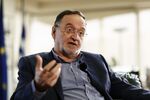 Greece will oppose any requests from creditors to sell Public Power Corporation SA, the country's dominant electricity provider, or spin off any part of the company, Energy Minister Panagiotis Lafazanis said.
"PPC will be a single, large, strong, public, state company that will not be sold," Lafazanis said in an interview in Athens Tuesday. "That's not open for discussion and is a consistent position of the government that won't change."
The Greek government's decision to halt energy asset sales after its January election victory has raised concern that companies such as Electricite de France SA may exit the country's power market. Public Power, which is 51 percent-owned by the government, controls almost all of the the country's electricity supply and about two thirds of the power generation market, according to Bloomberg Intelligence.
The company's shares have dropped 22 percent since the January 25 election.
A reluctance to move ahead with some privatizations has also put Greece at odds with its creditors, as the country tries to negotiate a new aid plan. The comments from Lafazanis come as Prime Minister Alexis Tsipras prepares to meet international creditors in Brussels on Wednesday ahead of a meeting of euro-area finance ministers, the third in a week, to try and secure an agreement to avoid default.
Greece faces a June 30 deadline both for the expiry of the European portion of the country's bailout and payments to the International Monetary Fund.
The no-sale rule also applies to Public Power's grid operating unit, known as the Independent Power Transmission Operator, or Admie in Greek, Lafazanis said. The previous New Democracy-led government had planned to sell 66 percent of the operator as part of Greece's bailout plan.
Russian Gas
In the interview, Lafazanis also outlined the government's plans to turn Greece into a natural gas conduit to markets in Europe, in part by bolstering links with Russia at a time when the country has become increasingly isolated in Europe.
Greece doesn't expect any opposition from the European Union to a project for a pipeline to carry Russian gas from the Turkish border, Lafazanis said. OAO Gazprom, Russia's natural gas exporter and the world's biggest producer, has faced regulatory issues in the past because of EU rules that prohibit gas exporters to own pipeline networks.
In this case, the Greek government will construct and operate the pipeline, in partnership with state-owned Russian development bank Vnesheconombank, Lafazanis said.
Greek Pipeline
"To put it simply, it will be a Greek pipeline," he said, adding the route will have annual capacity of 47 billion cubic meters of gas. Construction will start next year, with completion scheduled for 2019.
The section in Greece will employ around 20,000 people during its construction phase and won't compete with a separate project, the Trans Adriatic Pipeline, that will carry natural gas from Azerbaijan, said Lafazanis, a mathematician by training.
"Both pipelines will bring energy stability to Europe, both will have customers and both will be profitable for their owners," he said.
Before it's here, it's on the Bloomberg Terminal.
LEARN MORE