Tsipras Picks Up Baton After Euro Finance Chiefs Adjourn
Corina Ruhe and Ian Wishart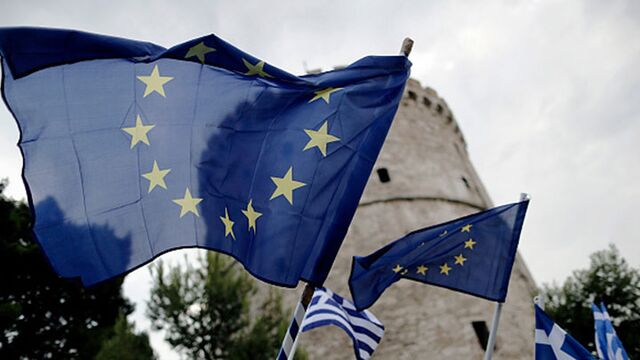 Greek Prime Minister Alexis Tsipras will pick up talks with creditors after euro-area finance chiefs adjourned saying a breakthrough over the terms of aid remained out of reach.
Finance ministers gathered in Brussels broke up after less than two hours to "take stock of the situation" and will reconvene on Thursday, said Dutch Finance Minister Jeroen Dijsselbloem, who chairs the meetings. Tsipras will hold a second round of negotiations with the heads of his country's three creditor institutions in Brussels later Wednesday night.
"Unfortunately we have not reached an agreement yet," Dijsselbloem told reporters. "We are determined to continue work during the night if necessary."
Greek stocks and bonds fell on Wednesday after Tsipras clashed with creditors over the terms attached to his country's bailout. With disagreement on points ranging from pensions to corporate taxes, he met for about five hours with IMF chief Christine Lagarde, European Commission President Jean-Claude Juncker and European Central Bank President Mario Draghi.
While the Greek side described the talks as very tough and creditors said they were difficult, a second round of negotiations was set for 11 p.m. local time.
'Concrete Proposal'
Finance ministers will resume at 1 p.m., by which time "we hope to have a concrete proposal," said Finnish Finance Minister Alexander Stubb. European Union leaders are due to arrive in Brussels for a two-day summit later on Thursday.
"It's important to keep the process going," said Stubb. "It's going to the wire."
With just six days until Greece's bailout expires and a 1.5 billion-euro payment to the IMF falls due, finance chiefs said that more time was needed to hatch a viable accord. Wolfgang Schaeuble of Germany, the biggest contributor to Greece's 240 billion-euro ($1.7 billion) bailout, said the groundwork was still "not sufficiently far advanced" to get an accord.
"I don't like all these deadlines because what we need to do here according to my opinion is first of all reach a good agreement for the Greek economy," Belgian Finance Minister Johan Van Overtveldt told reporters. "We'll see how far we get today. If we can't get that today, we'll see where we get tomorrow."