De Blasio Gets Payback From State Senate Republicans He Worked Against
Freeman Klopott and Henry Goldman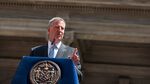 Perhaps New York Mayor Bill de Blasio's decision to campaign against state Senate Republicans last year wasn't such a great idea.
Seven months after his effort to prevent a Republican takeover failed, the legislature on Tuesday dealt the Democratic mayor two key defeats. A deal between Governor Andrew Cuomo and lawmakers didn't give de Blasio the repeal he sought of a rule that allows some rent-regulated apartments to be leased at market rates, a blow to his affordable-housing plans. He asked for permanent mayoral control of schools; Cuomo and the legislature gave him one year.
The mayor had also sought an increase to the minimum wage and college funding for undocumented immigrants. Both barely got a mention in the deal, which includes a $1.3 billion tax rebate for homeowners in primarily Republican districts outside the city.
"De Blasio made a political blunder in trying to influence the upstate Senate elections," said state Republican Chairman Ed Cox. "He failed because upstate voters don't like being told who to vote for by the mayor of New York City."
As a result of de Blasio's "meddling," Cox said, Republicans Susan Serino and Terrence Murphy won key races in the Hudson Valley, a battleground region.
Republican Takeover
When de Blasio targeted the Republicans' narrow hold on the Senate, he said it was the best way to advance his self-described progressive agenda. He raised more than $1 million and allocated staff for Democratic candidates. He also brokered a deal in May 2014 that gave Cuomo the support of the union-backed Working Families Party, with Cuomo promising to help lead a Democratic takeover.
Instead, Republicans gained an outright majority in the Senate for the first time since 2010. Immediately upon retaking the chamber, then-Majority Leader Dean Skelos said de Blasio's campaigning provided his party with a boost and that it wouldn't be quickly forgotten.
Skelos was ousted in May after being accused by federal prosecutors of using his power over city real estate laws to get jobs for his son. Skelos, who says he's innocent, was replaced by John Flanagan, who also represents parts of Long Island. On April 29, just weeks before he became the state's highest ranking Republican, Flanagan said de Blasio had made a tactical error.
"I would recommend to the mayor that that was not the most prudent course of action," Flanagan said in a radio interview.
No Mistake
Asked at a news briefing Wednesday whether campaigning against Republican Senate candidates was a mistake, the mayor said no.
"As I've said many times all over this country, it's normal for a member of a political party to support members of their political party," de Blasio said.
The mayor did eke out a few victories. His proposal to boost the number of affordable-housing units developers must build in return for a property-tax abatement served as the backbone of the deal reached by Cuomo and legislative leaders. An effort by Cuomo and some lawmakers to overhaul disability pension payments for city firefighters that de Blasio opposed also didn't come to fruition.
Still, his plan to preserve or create 200,000 affordable housing units by 2020, a key piece of vision to keep the city livable for the poor as the income gap widens, was dealt a blow by the rent-control deal.
The mayor had sought to end vacancy decontrol, which allows apartments to come out of the regulated system when their rent tops $2,500 per month. The accord raises the cap to $2,700.
Holding Fast
"The Senate Republicans for the most part get not just their seed money, but their money to run for re-election, from the landlord lobby," Assemblywoman Linda Rosenthal, a Manhattan Democrat, said Tuesday. "They were holding fast to their commitment to them."
The one-year extension for control of the schools was where the backlash was most evident, said George Arzt, who served as a spokesman for former Mayor Ed Koch. De Blasio's predecessor, Michael Bloomberg, the founder and majority owner of Bloomberg News parent Bloomberg LP, won a seven-year renewal from Senate Republicans after the billionaire directed millions to their campaign coffers.
Republicans disagree with de Blasio over his opposition to charter schools and say he is beholden to the teachers union.
"The fact that they only gave him one year demonstrates that they remember what happened," Arzt said. "Once you're in office, you have to make alliances that are going to ensure you're getting the help that you need to run the city."