business
Cameron Steps Up EU Renegotiation as U.K. Business Says Stay
Thomas Penny and Svenja O'Donnell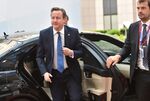 David Cameron is preparing to step up his European Union renegotiation efforts Thursday amid calls from some business leaders not to put British membership of the bloc at risk.
The prime minister arrived in Brussels for a summit fresh from talks in Berlin with German Chancellor Angela Merkel the day before. With the EU also trying to reach a financial settlement with Greece, Cameron will outline his proposals over a working dinner.
"Today marks a significant milestone in the process," Cameron said as he arrived at the summit. "It's right for Britain to have this renegotiation and this referendum to address the concerns that the British people have about Europe and to make sure that the British people have the final say about whether we stay in a reformed European Union or leave."
Cameron has promised to win better terms and call a referendum on whether Britain should stay in the EU by the end of 2017. A group of 26 business leaders including billionaire Richard Branson and WPP Plc Chief Executive Officer Martin Sorrell wrote to the Times newspaper saying it's "overwhelmingly in Britain's interest to remain in the EU" and urging Cameron to negotiate from within the union rather than by threatening to leave.
With Greece's euro membership in the balance and many EU countries struggling to cope with a flood of illegal migrants, Cameron's demands are unlikely to be the main focus of attention in Brussels. However, his spokeswoman, Helen Bower, said getting the subject on the agenda was a first step.
Technical Talks
"What matters really is the technical talks that follow," she told reporters in Brussels.
After a series of one-on-one meetings on Thursday, Cameron has spoken to almost all of his counterparts since his re-election on May 7.
The U.K. prime minister has not presented a formal list of demands but has said he wants to protect British sovereignty and ensure fair treatment for countries outside the euro area, while preserving the single market and imposing controls on migration within the EU. He's also seeking to ensure the bloc is an engine for growth by reducing regulation.
"Not having a formal list is both a get-out clause and strengthens your negotiating position," Anand Menon, professor of European politics and foreign affairs at King's College London, said in a phone interview. "Whatever Cameron gets, he's going to come back and say he's achieved what he wanted."
Not For Sale
European Union President Donald Tusk made clear the path will not be smooth for Cameron as he tries to reach a deal that's acceptable to euro-skeptic members of his Conservative Party.
"There are some British concerns we should consider but only in a way which will be safe for all Europe," Tusk told reporters as he arrived at the summit venue. "One thing should be clear from the very beginning -- the fundamental values of the European Union are not for sale and so are non-negotiable."
European Parliament President Martin Schultz said Cameron should not focus solely on treaty change, which he said will be "quite difficult," and instead look at legislative reforms.
Having held political discussions with his counterparts to assess what can be achieved in the renegotiation, Cameron is seeking to maintain momentum this week.
Dutch Prime Minister Mark Rutte, one of Cameron's closest allies in the bloc, said the British renegotiation provides an opportunity for the whole EU.
Read this next:
'Stay Involved'
"I want the U.K. to stay involved," Rutte told reporters in Brussels. The discussion should examine "what you can do to strengthen Europe with the 28 -- on markets, simplification, free trade. Keep them in, but then get a better deal with the 28."
British diplomat Jonathan Faull, who has worked for the European Commission since 1978, has been appointed to lead a task force with responsibility for "strategic issues related to the U.K. referendum," the commission announced. Faull will report directly to the commission president, Jean-Claude Juncker.
To win a referendum, which may be called as soon as October 2016, Cameron might need to convince voters that he has achieved real change, King's College's Menon said.
"Most people in this country aren't very aware of the technical details of these negotiations and will be swayed by the prime minister coming back from Brussels and saying 'we've won,'" Menon said. "A lot of it is style as much as substance and it will be better for Cameron if it looks like there's been a fight."
Before it's here, it's on the Bloomberg Terminal.
LEARN MORE