Alfa Romeo's New Sedan Leads Revival That Risks
Tommaso Ebhardt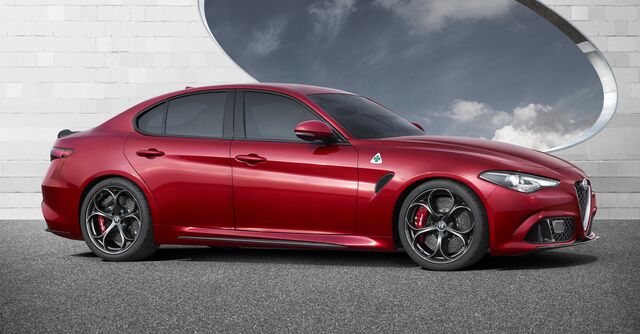 Alfa Romeo fans awaiting a long-promised revival can take solace in the unveiling of the Giulia sedan, even though the effort is probably too little, too late for the sporty Italian brand to achieve its growth targets.
For more than a decade, Fiat Chrysler Automobiles NV Chief Executive Officer Sergio Marchionne has been vowing to restore Alfa Romeo as a premier auto brand. The mid-sized sedan, which was unveiled Wednesday near Milan and will take on models like BMW's 3-Series at some point next year, is the first serious effort to win more customers. Even so, uncertainty about follow-up vehicles and a thin presence outside of Europe means those ambitions are likely to go unfulfilled by 2018.
"Despite our love of Alfa's past, we're unconvinced by its future," said Max Warburton, an analyst at Sanford C. Bernstein Ltd. The latest push "is going to swallow a significant sum of capital and has no chance of earning any money in its first product cycle."
The Giulia and an Alfa Romeo sport utility vehicle due next year are critical tests for Marchionne. His plan is to produce upscale models to fill under-used and unprofitable factories in Italy. The brand, which currently sells two hatchbacks and a limited-run sports car, is supposed to anchor this strategy with eight new models by 2018 through investments of as much as 5 billion euros ($5.6 billion).
Major Project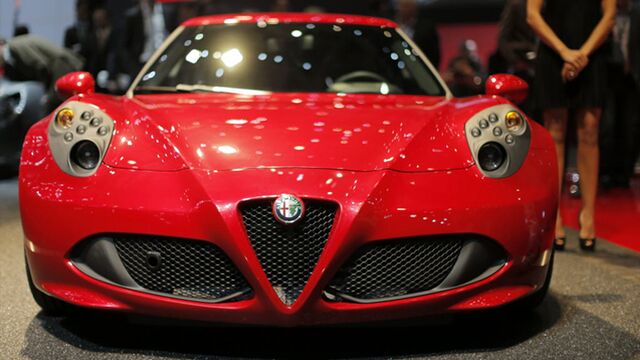 "It's not a mystery that this is one of the most important projects of my career," Marchionne said after tenor Andrea Bocelli's performance of Puccini's "Turandot," which preceded the unveiling.
The Giulia, which will have a 510-horsepower engine designed with help from Ferrari, will go on sale with the most powerful version at the end of the year in Europe and next year in the U.S., where the brand has about 20 dealers.
Marchionne is maintaining the pace of eight new Alfas, including the Giulia, by 2018. The new models, each based on the new Giorgio platform, are critical if the CEO is to reach his target of increasing sales more than fivefold to 400,000.
He has failed to deliver on past promises and may again come up short. Research company IHS Automotive forecasts Alfa Romeo sales will rise to 216,000 vehicles in 2018, compared with the carmaker's target of 400,000.
Ferrari Ties
Marchionne is betting this time will be different. He assigned a development team led by former managers from the Ferrari sports-car division to re-create the brand. Cordoned off at a site in the northern Italian town of Modena, they created the Giorgio new rear-wheel-drive platform, which will also serve as the base for the SUV. The Giulia's engine range includes Ferrari-derived motors for top-of-the-line variants.
The goal is to tap into the cachet that lingers from a storied racing history, including the first Formula One championship in 1950, and evocative Alfa Romeo production cars, such as the Duetto Spider driven by Dustin Hoffman in the 1967 film "The Graduate." Even with its heritage and global name recognition, a lack of investment in recent years eroded deliveries to 68,000 last year.
Marchionne is now seeking to convert Alfa Romeo into a nameplate capable of challenging BMW and Volkswagen AG's Audi. Backed by a broader lineup, the goal is for the brand to earn fatter profit margins than those for mass-market Fiat and Chrysler vehicles.
'Credible Player'
The Giulia's unveiling "will focus the market on the potential of Alfa Romeo as a credible player in the premium autos space," Stefan Burgstaller, an analyst at Goldman Sachs Group Inc., said in a June 10 note.
Marchionne will hope that's the case, which would bolster his efforts to find a merger partner. Burdened by 11.4 billion euros in net debt, London-based Fiat Chrysler has little margin for error.
The outspoken CEO has indicated that further investment may depend on the reception of the first two models. A successful expansion would save it from the fate of Lancia, also a once storied brand, which is being reduced to a single vehicle for sale only in Italy.
"The Giulia sedan is critical for Alfa Romeo," said Ian Fletcher, a London-based analyst at IHS. "If the model doesn't meet expectations, then Marchionne could finally let it lie" with the brand.
Before it's here, it's on the Bloomberg Terminal.
LEARN MORE