Would You Change Your Flight for Free Wi-Fi?
Airlines are now merchants with a variety of wares, from seats to streaming TV. They're just starting to learn how to sell
By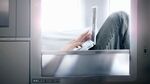 When airlines broke up their basic offering—the flight—into retail pieces that range from ticket price to Wi-Fi, they gave themselves a new challenge: How do you market extras to consumers who are wary of the basics?