Watch Chris Christie's Approval Rating Free Fall in One Chart
"Bridgegate" and other allegations continue to weigh down the governor's approval rating.
By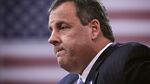 Gov. Chris Christie demonstrated his political strength in 2013, winning 60 percent of the vote and maintaining his strength in public opinion polls. That, however, didn't last long. His approval rating soon went into free fall as the "Bridgegate" investigation ramped up, along with other allegations, such as those made by the mayor of Hoboken on Hurricane Sandy funds.