The Startup Shrink Will See You Now
In Berlin's startup culture, consulting overlaps with therapy
By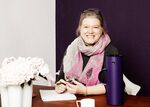 Julia Derndinger is Berlin's startup therapist. Each week, she sees a dozen company founders at her apartment on Oranienburger Street, where €200 ($224) an hour buys advice on spending, expansion, and hiring, plus hot tea and, occasionally, relationship counseling. Derndinger also helps clients navigate the extra layers of danger and anxiety that come with running a fledgling business in Germany. The local financial press has dubbed her die Gründertrainerin, "the founder trainer."
As many as 1,000 startups have begun life in Berlin in the past year, and the local tech industry employs about 60,000 laptop jockeys in conventional offices or huddled at cafes and co-working spaces with Fritz-Kola and craft beer. But the "fail fast, fail often" ethos of Silicon Valley is at odds with the notoriously cautious German business culture. Germany ranks 25th out of 29 high-income countries in new-business formation, according to the World Bank. Among other factors, shuttering the local equivalent of a limited liability company takes a year or more and lands directors on a banking blacklist.
Discretion is paramount for Derndinger, a startup veteran who began taking on clients two years ago after encountering a wave of founders in need of hand-holding. She says most are in their early 30s, manage at least 50 employees and €10 million in annual revenue, and take more than a year to publicly admit they meet with her. "We don't talk about problems in Germany," Derndinger says. "It's just not sexy to be coached."

Sessions are typically in the morning, before her clients head to work. Tea and flowers set the mood, and there's a fluffy white sofa, but Derndinger prefers to sit at her massive walnut dining table. Her style lands somewhere between sympathetic ear and drill sergeant. During a March session a reporter sat in on, the words ein Problem popped up throughout, and Derndinger peppered her questions with Scheiße, Arsloch, verdammt, and other profanities while her client repeatedly massaged his face. The matter was less dire than all that: She was urging her client to save on lodging for the annual South by Southwest Conference in Austin, Texas, by crashing with local Germans.
"Julia gives me one hour per week where I can actually drop my issues," says Christoph Behn, founder of online stationery shop die Kartenmacherei, who began visiting Derndinger last year. "It helps, having someone rationalize and take the emotion out." Derndinger says she recently stopped booking clients back-to-back because many were lingering to discuss personal problems.
Derndinger, 39, worked in customer retention, including for Bertelsmann's e-commerce arm, before co-founding mobile accessories maker Trendwerk77 in 2004. After selling that company to her business partner for "less than seven figures" at the end of 2007, she helped launch Circus Internet, an online toy-rental company. In 2013 she cashed out of Circus, where she was managing director, for a sum she wouldn't disclose. She says brashness helped her stand out as a manager and sell her companies.
Christian Lindner, chairman of Germany's Free Democratic Party, was speaking before state legislators earlier this year, asking them to treat failed business owners with more sympathy, when a heckler mocked the 2001 collapse of Lindner's former tech company, Moomax. His angry, three-minute response racked up more than 2 million views online. "What sort of impression does this kind of interjection make on some young person interested in starting a business?" Lindner said. "If one succeeds, one ends up in the sights of the Social Democratic redistribution machinery, and if one fails, one can be sure of derision and mockery."
All of Derndinger's clients, and a disproportionate number of Berlin startup founders, have backgrounds in business rather than programming, yet many are convinced they need to build their own software for everything instead of using ready-made tools such as WordPress and Excel. Derndinger tells them that's dumb. "It's not magic," says Felix Schlegel, the co-founder and managing director of online retailer Monoqi, who's been meeting with the therapist every Friday morning since late last year. Like most of her advice, he says, "it's just common sense."
The bottom line: The bustling startup scene in Berlin has created a €200-an-hour business for a veteran who's a good listener.
Before it's here, it's on the Bloomberg Terminal.
LEARN MORE