Obama Said to Ease Prosecution Threat Over Ransom Payments
Toluse Olorunnipa and John Walcott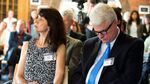 The U.S. will no longer threaten families of hostages with prosecution if they negotiate a ransom with extremists, under a revised policy for dealing with American captives, two U.S. officials said.
While the U.S. continues to officially oppose paying ransoms or making concessions to terrorist groups, the policy wasn't uniformly applied, leading to confusion among law enforcement and intelligence agencies and unnecessary pain for families, according to the officials. They were involved in drafting the revised policy and spoke on condition of anonymity to discuss the changes before it is announced Wednesday.
President Barack Obama, who ordered a study of the U.S. hostage policy last year, will also designate a team, rather than a single official, to oversee all communications with hostages' relatives, the officials said. The White House has said for months that such a communications "fusion cell" was being considered.
Legislation introduced in the Senate later on Tuesday would create a new position to coordinate the government's response to hostage situations.
Obama will meet with family members of U.S. hostages on Wednesday to discuss the review before signing an executive order to implement policy changes, White House Press Secretary Josh Earnest told reporters Tuesday. Several of the family members were in Washington on Tuesday to be briefed, he said.
Barak Barfi, a friend of slain journalists Steven Sotloff who has spoken on behalf of his family, said he met with Lieutenant General Bennet Sacolick of the Army, who led the hostage policy review at the National Counterterrorism Center.
Human Factor
"If his passion is any indication of the changes in store, then government policy on this issue will be more in line with human passions and needs rather than bureaucratic exigencies," he said in an e-mail Tuesday.
Republican Representative Duncan Hunter of California, who has pressed for changes in U.S. hostage policy, said the actions fall short.
"Wholesale changes are needed, but what's being put forward is nothing more than window dressing, I fear," he said in a statement. "There needs to be a single person situated above the fusion cell, with the authority necessary to direct certain activities, isolate turf battles and streamline the bureaucracy."
Recovery Coordinator
U.S. senators Ben Cardin, a Maryland Democrat, and John Cornyn, a Texas Republican, filed legislation Tuesday to create a hostage recovery coordinator position to oversee various agencies' efforts. The Obama administration has said the fusion cell would play a similar role.
"Families of Americans held hostage by terrorists, rogue regimes, or other bad actors deserve as much information as possible about the work being done to ensure their loved-ones are returned home safely," Cornyn, the Senate's second-ranking Republican, said in a statement. "We need to do more to help those here in the U.S. waiting for answers and to ensure some unity of effort by the Federal Government."
Hunter and Representative John Delaney, a Maryland Democrat, are expected to introduce similar legislation in the House, the senators said.
Hostage Deaths
Obama ordered the National Counterterrorism Center to conduct the review after Sotloff and another American journalist, James Foley, were beheaded by Islamic State militants. Since then, the deaths of several other Americans, including aid workers Peter Kassig and Kayla Mueller in Syria, have raised questions about U.S. hostage policy.
The U.S. has carried out several failed rescue missions in recent months, and Obama acknowledged that a U.S. counterterrorism strike in January inadvertently killed an American held in Pakistan.
Family members of several of those killed have criticized U.S. officials for preventing them from making their own attempts to negotiate with kidnappers and failing to fully inform them about rescue efforts.
Foley's mother, Diane Foley, told ABC News last year that government officials warned her she might be prosecuted for paying a ransom to secure the release of her son.
'Inconsistent' Help
Elaine Weinstein, whose husband Warren Weinstein was mistakenly killed earlier this year by a U.S. drone strike targeting terrorists, said the government's assistance was "inconsistent at best and utterly disappointing."
"This review will not bring Warren back," she said in a statement released Tuesday. "It is our most sincere hope that it was conducted fully and frankly so the U.S. government can have an honest conversation about the areas where it falls short."
While several other countries allow their citizens to pay ransoms to foreign kidnappers, the U.S. has for decades maintained its policy against the payments, saying they encourage terrorism.
"To offer concessions to terrorists only does allow them to more effectively fund their operations, but also makes American citizens around the globe an even more significant target than they already are," Earnest said.
The fusion cell of federal agencies involved in hostage cases, including the Central Intelligence Agency, the Defense Department and the National Security Agency, will help to coordinate communication between families and the government and prevent miscommunication, Earnest said.
The policy changes were reported earlier on the website of Foreign Policy magazine.