Meet the Hilarious Comedian Now Impersonating Bernie Sanders
James Adomian, who previously nailed a dopey version of George W. Bush, has a surprisingly sympathetic—and absurdly funny—take on the Vermont senator running for president.
By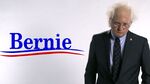 "Bernie Sanders" fixes his eyes on the camera and shares his pain. His presidential campaign is not getting taken as seriously as it deserves.