business
London Whale Report Leaves U.K. Regulator With Identity Crisis
Suzi Ring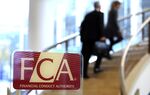 First there was one. Then three. Now the U.K. Financial Conduct Authority is facing nine lawsuits for improperly identifying traders in penalty notices, in what has quickly become a nightmare for the agency.
In a London court Thursday, the FCA faced a roomful of more than 20 lawyers protesting the reputational damage their clients suffered as a result of its failure to sufficiently disguise them in bank settlement reports. The hearing was the first in a series of headaches the FCA faces on the matter and could change the future of U.K. enforcement proceedings.
"Part of deterrence is telling the story and if you're telling it with one hand behind your back," because you can't allude to individuals, it will make things difficult, said FCA Chief Executive Officer Martin Wheatley in a London interview with Bloomberg last week.
The deluge of cases comes after the FCA lost a landmark appeal in May when a judge said it failed to properly hide the identity of Achilles Macris, the former JPMorgan Chase & Co. manager of the London Whale trader, in its settlement with the bank. The FCA is seeking permission to appeal the judgment to the Supreme Court. A judge will rule as soon as Tuesday on whether the other eight pending cases can proceed before the top court makes a decision on the FCA's Macris appeal.
For years the FCA used monikers such as "trader A" in settlement notices to get around the fact a person must be given the chance to respond to allegations if they're identified. The references allow the agency to illustrate misconduct by publishing real chats where traders are promised steak in return for help rigging the market and given nicknames such as Lord Libor.
Two Choices
If the Macris ruling stands, the FCA is faced with two choices: taking years to complete investigations to give all parties the chance to participate or publishing anodyne settlements that won't fully explain the misconduct.
For individuals caught-up in FCA probes though, this is a welcome change, according to Tim Aron, a London lawyer at Arnold & Porter LLP.
"The Macris judgment puts an end to banks entering into deals with the FCA on terms which are acceptable to both sides without the FCA also taking steps to treat individuals involved in those matters fairly," Aron said. This also means "there are likely to be many cases in which drafting notices with any amount of detail isn't possible."
In addition to Macris, the outstanding claimants include a bevy of figures who have been caught up in a range of recent financial scandals.
Martin-Artajo, Grout
JPMorgan bankers Julien Grout and Javier Martin-Artajo are both petitioning in relation to the London Whale settlement. Ex-Deutsche Bank AG trader Christian Bittar, Deutsche Bank trader Joerg Vogt, and former Barclays Plc trader Philippe Moryoussef have filed complaints in connection with the bank settlements for rigging the London interbank offered rate.
JPMorgan's former London chief currency dealer, Richard Usher, Rohan Ramchandani, Citigroup Inc.'s former head of G-10 spot currency trading, and Barclays former global head of voice spot trading Chris Ashton all claim they were wrongly identified in the foreign-exchange rigging sanctions.
While calling someone trader A in a report might seem anonymous, insiders can often figure out who's who by references to nicknames or even position on the floor. That can damage traders' reputation, and their ability to get another job, said Ben Rose, a London lawyer at Hickman & Rose.
"It is imperative that regulators and prosecutors prevent 'join-the-dots' identification," Rose said. Regulators must "give those concerned a proper opportunity of being heard before any damaging accusations are made."
The case is Macris & other related references v FCA, FS/2013/0010
Read this next:
Before it's here, it's on the Bloomberg Terminal.
LEARN MORE