Democrats Ignore Chris Christie's No-Tax Calls in New Jersey Budget
Terrence Dopp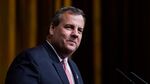 Democrats who control the New Jersey Legislature advanced a $35.3 billion spending plan that would more than double Republican Governor Chris Christie's planned pension payment.
Budget committees for both the Assembly and Senate approved the legislation along party lines, as well as separate bills to raise taxes on businesses and millionaires. The measures are set for a planned vote Thursday in both houses.
Christie, who is nearing an announcement of whether he'll run for president, is expected to veto the tax bills and spending above his own $33.8 billion plan in a repeat of a similar showdown last year. His budget for the fiscal year that begins July 1 cuts a planned $3.1 billion contribution to $1.3 billion. The Democrats' version includes the full amount.
"Nobody wants to take these measures, but at the end of the day we have an obligation to make this pension payment," Senate Budget Chairman Paul Sarlo, a Democrat from Wood-Ridge, said Monday. "We think this is the right answer."
New Jersey's pension fund, with seven plans benefiting state workers, teachers and emergency workers, has an $83 billion unfunded liability after more than a decade of skipped and lowered payments. The state's credit rating has been downgraded a record nine times under Christie because of rising pension and benefit costs and missed revenue forecasts.
The Democrats' tax bills would raise the rate on income above $1 million to 10.75 percent from 8.97 percent for four years, and corporate levies to 10.35 percent from 9 percent for one year.