technology
CBS to Offer Showtime's New Online Version Through Hulu
Lucas Shaw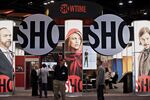 CBS Corp. will offer the new online version of its Showtime cable channel through through Hulu LLC, adding another distributor for its debut in July.
Showtime's online service, which doesn't require a cable-TV subscription, will be available prior to the July 12 debut of two returning series, "Masters of Sex" and "Ray Donovan," Showtime said Tuesday in a statement. CBS has already said it will sell it on Apple devices, the Roku Inc. set-top box and Sony Corp.'s PlayStation Vue Web-TV product.
Hulu, which offers TV shows and movies online, is offering Showtime at a discount to entice people to buy its premium service too. Hulu's 9 million subscribers who pay $7.99 a month will be able to buy Showtime for an added $8.99, $2 less than Showtime will cost on its own. Users of Hulu's free service will have to go elsewhere to get Showtime.
"This is one of the new ways premium TV will be bundled," Showtime Chief Executive Officer Matthew Blank said in an interview.
Showtime is getting the same amount of money from Hulu as it gets from other distributors, Blank said. The discounts are being shouldered by Hulu, he said.
CBS, based in New York, is the only one of the four biggest broadcast networks that doesn't have a stake in Hulu, which was founded in 2007. Its owners are 21st Century Fox Inc., Comcast Corp.'s NBCUniversal and Walt Disney Co., the owner of ABC.
Hulu has been spending more aggressively on programming to increase its subscriber count and better compete with Netflix Inc., which has more than 62 million subscribers worldwide.
By combining Hulu and Showtime, Hulu positions itself as a new kind of pay-TV provider, offering multiple channels in one place. The paid version has fewer ads and access to a large set of programs from ABC, NBC and Fox, plus other movies and series that the site has licensed.
Sony and Apple are also attempting to build an online version of the pay-TV bundle. Showtime is seeking to expand its footprint with an online service unshackled from the cable bundle.
Showtime has almost 24 million subscribers, which Blank says is less than one-quarter of its potential customer base. The network is open to similar deals with Netflix and Amazon.com Inc., he said. It doesn't yet have a deal to sell the online-only version of Showtime via cable-TV providers outside of a traditional pay-TV package. Rival HBO, owned by Time Warner Inc., is selling its Web-only product through pay-TV provider Cablevision Systems Corp.
"All of these relationships start to blur except one thing: they are all selling Showtime to consumers and billing them for it," Blank said. "We are in the very early innings here, and we're open to conversations with all the players."
(Updates Showtime CEO's comment in fourth paragraph.)
Before it's here, it's on the Bloomberg Terminal.
LEARN MORE