Bankers Face Decade Bonus Clawback in BOE Misconduct Rule
Jim Brunsden and Suzi Ring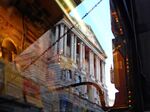 Senior bankers found guilty of misconduct by regulators could be forced to pay back bonuses as long as 10 years after they were awarded under new Bank of England rules.
The BOE said that it would also seek public input on curbing so-called buyout arrangements whereby a new employer compensates bankers for bonuses they were in line to receive had they stayed in their old job. The BOE said the measures would promote better conduct in financial institutions.
"The U.K. now has the toughest bank pay rules in the world," Jon Terry, a partner at PricewaterhouseCoopers, said in an e-mailed statement. "The biggest concern for banks headquartered in the U.K. is the uneven playing field that now exists between the U.K. and the rest of the EU."
The plans are part of the latest wave of banker-pay curbs from the BOE, which last year announced a standard rule that senior managers at banks could have bonuses clawed back as long as seven years after they're awarded. That measure took effect at the start of 2015.
The extended clawback period announced Tuesday will apply when bonuses are awarded at a bank that has been notified by its regulator it's under investigation, according to the BOE. The new provision is aimed at allowing banks and regulators to still take action against individuals even if the misconduct is discovered years after it's taken place.
Deferral Rules
The measures were announced in tandem with the Financial Conduct Authority, which is responsible for supervising markets and consumer protection.
Global regulators have pledged to hit bankers' wallets if their risk-taking leads to large losses. While work at the international level has focused on powers to recover bonuses and deferral rules that limit immediate payouts, the European Union has also adopted a ban on awards worth more than twice fixed pay.
U.K. regulators are pushing to improve banker conduct after repeated scandals linked to misselling of financial products and rigging of key interest rates.
On the issue of bonus buyouts, the BOE and FCA sought views last year on four possible approaches, ranging from banning them entirely to letting the practice continue on the basis that other measures would go far enough in policing bankers' incentives.
In Tuesday's announcement, the regulators said they will consider putting forward detailed proposals for measures that would mean money awarded to a banker as a result of a buyout could still be annulled if misconduct at the previous employer comes to light.
Pension Benefits
Other parts of the BOE plans reinforce curbs on bonuses and other perks for executives of bailed-out banks, including discretionary pension benefits.
This part of the measures will build on existing EU standards "by making explicit that the presumption against payment or vesting extends to all discretionary payments, including payment for loss of office and discretionary pension benefits," the regulators said.
The pay rules are "a crucial step to rebuild public trust in financial services," said Martin Wheatley, chief executive of the FCA. They will allow "firms and regulators to build long-term decision-making and effective risk management into people's pay packets."
Under the updated rules, senior U.K. bankers will also have to wait longer to fully get their hands on bonuses they've been awarded.
Staff identified by regulators as being "senior managers" will have to wait seven years after the award, while other "risk managers with senior, managerial or supervisory roles" at big banks will have to wait five years.
'Regulatory Focus'
This goes beyond EU rules, which require deferral of at least three to five years, with banks to set the precise limit.
"These steps highlight the fact that the regulatory focus is now clearly on conduct risk and making it clear that the authorities will seek to impose financial sanctions on those who are deemed to have fallen short in effective risk management," Richard Reid, a research fellow for finance and regulation at the University of Dundee in Scotland, said by e-mail.
"At the same time by focusing on clawbacks rather than caps on remuneration, it would suggest that U.K. regulators are also keen not to undermine significantly the U.K.'s position as a leading financial center," he said.
Clawback Measures
The U.K. bonus deferral and clawback measures go beyond minimum EU standards, which require at least 40 percent of awards to be deferred for at least three years, and hand banks some clawback powers. U.S. rules on banker pay have mainly targeted bailed-out banks.
The U.K. prefers measures to recoup compensation over imposing caps on bonuses, which Andrew Bailey, chief executive officer of the BOE's Prudential Regulation Authority, has said will lead to higher salaries. Britain last year abandoned a legal challenge against the EU bonus cap after it suffered a setback in the bloc's top court.
The British Bankers' Association said that its members support key planks of what was announced today.
"Banks want compensation that rewards long-term performance, discourages excessive risk-taking and appropriately aligns risk with reward," the BBA said in an e-mailed statement.
Deferral Period
"It is right and proper that designated senior managers should be subject to a further 3-year clawback period where there are outstanding internal or regulatory investigations at the end of their normal seven-year deferral period."
There are concerns from some corners that the clawback extension could be abused by firms under investigation.
"The language in many bonus schemes often gives wide discretion to the bank to withhold bonuses if the bank has faced censure even if the individual has not," said Tim Aron, a London lawyer at Arnold & Porter LLP. Senior managers should "ensure clawback is only allowed in the event of failures that have been properly attributed to them."
The U.K. Treasury welcomed the tougher regulatory stance on pay.
"The new rules will reinforce the link between pay and performance and ensure bankers are left in no doubt that their bonuses are at risk should any misbehavior occur," a Treasury spokesman said in a statement.
"The reforms the government has put in place since 2010 mean that Britain now has the toughest rules on bankers' pay of any major financial center."
Read this next: