Ahold to Buy Delhaize in Biggest Grocery Deal in a Decade
Thomas Mulier and Elco van Groningen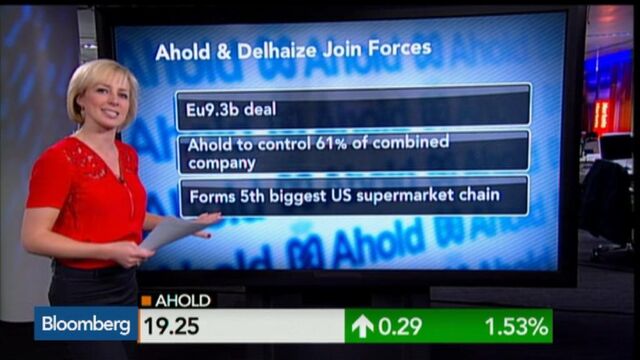 Royal Ahold NV agreed to acquire Delhaize Group for about 9.32 billion euros ($10.4 billion) in shares, creating the fifth-biggest U.S. supermarket retailer in the industry's biggest transaction for almost a decade.
The deal, which follows more than a month of talks between the European owners of the Stop & Shop and Food Lion chains, will create a company based in Ahold's Dutch homeland and run by its Chief Executive Officer Dick Boer. Ahold investors will own 61 percent of the enlarged group.
"Ahold is clearly taking the lead in this transaction," said Alan Vandenberghe, an analyst at KBC Securities. "Our first take is that the merger agreement comes short of expectations for Delhaize investors."
Ahold shares rose as much as 4.8 percent, while Delhaize dropped as much as 5.4 percent, erasing part of Tuesday's 8.4 percent gain after the deal was reported to be close.
The merged business, to be called Ahold Delhaize, will have annual revenue exceeding 54 billion euros from more than 6,500 stores worldwide, including Albert Heijn in the Netherlands and Tom & Co. in Belgium. The combination follows years of speculation and has been hastened by increased competition for both grocers in the U.S. from discounters such as Wal-Mart Stores Inc. and Aldi Stores Ltd.
Ahold and Brussels-based Delhaize run supermarkets on the U.S. East Coast in addition to their neighboring home markets.
Annual Savings
Delhaize investors will get 4.75 Ahold shares for each share they own. That's worth about 90 euros a share, based on Tuesday's closing price. Ahold said it plans to return 1 billion euros to shareholders by consolidating its stock, a mechanism that it used two years ago, Chief Financial Officer Jeff Carr said on a conference call with analysts.
The merger is forecast to create annual savings of 500 million euros within three years of being completed, which the companies expect to happen in mid-2016.
The yearlong process to get the deal done, including gaining necessary antitrust approvals, "may be a slight disappointment," analysts at Exane BNP Paribas said in a note.
The transaction is unlikely to fall foul of competition regulators, analysts have predicted. Fewer than 5 percent of the combined company's U.S. stores can genuinely be described as overlapping, Barclays said in a May 13 note. Ahold's 28 Belgian stores may be the only other issue, it said.
Breakup Fee
Achieving the projected synergies will involve costs of 350 million euros, added to which there are as much as 100 million euros in transaction fees, Ahold's Carr said.
The deal is expected to add to the new company's earnings in the first year, he said.
Bringing the two companies together will help them fight escalating competition in the U.S. Ahold's Giant chain, which operates in Virginia, Maryland, Delaware and Washington, D.C., has been hurt by competitors opening new stores, while the market in New England has been stagnant, the company has said. Delhaize's Food Lion faces challenges from Wal-Mart's addition of smaller-format grocery stores, while Harris Teeter is cutting prices under the ownership of Kroger Co.
Ahold might also help its Belgian rival come up to speed on Internet shopping. The company owns Bol.com, the largest online retailer in the Netherlands. "Delhaize, having somewhat lagged the online trend, could benefit from Ahold's vast experience in the matter," ING analyst Matthias Maenhaut said.
A breakup fee of 150 million euros will apply if either company withdraws from the transaction.
Goldman Sachs Group Inc. and JPMorgan Chase & Co. advised Ahold, while Bank of America Merrill Lynch and Deutsche Bank AG were lead advisers to Delhaize, which also consulted Lazard.
(A previous version of this story corrected the total number of stores Ahold and Delhaize run.)