U.S. Says Airstrike Kills Islamic State Fighter Tied to Benghazi
David Lerman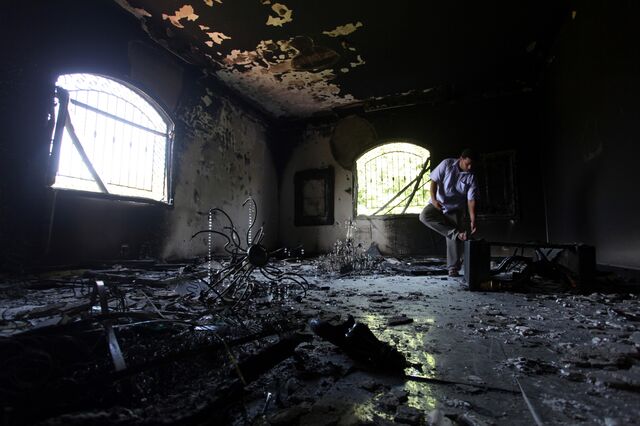 A U.S. airstrike in Iraq killed an Islamic State operative who was considered a "person of interest" in the 2012 attack on a U.S. compound in Benghazi, Libya, the Pentagon said.
Ali Awni al-Harzi, who raised money and recruited fighters for Islamic State, was killed in a June 15 airstrike in Mosul, Army Colonel Steve Warren, a Pentagon spokesman, said in a statement Monday.
"Al-Harzi operated closely with multiple ISIL-associated extremists throughout North Africa and the Middle East," Warren said, using an acronym for Islamic State. "His death degrades ISIL's ability to integrate North African jihadists into the Syrian and Iraqi fight and removes a jihadist with long ties to international terrorism."
The Treasury Department designated al-Harzi a terrorist last Sept. 24, citing his role in raising money for Islamic State, including about $2 million "from a Qatar-based financial facilitator," according to a Treasury statement at the time.
Al-Harzi also was described as a key leader of Islamic State's suicide bomber pipeline by assisting the travel of foreign fighters to Syria and Iraq.
The terrorist designation last year made no mention of al-Harzi's possible role in the Benghazi attack, which killed four Americans, including U.S. Ambassador to Libya Christopher Stevens.
A U.S.-led coalition has conducted daily airstrikes in Iraq and Syria since August against Islamic State, the radical Sunni group that declared a self-styled caliphate, or religious state, in parts of both countries.
Before it's here, it's on the Bloomberg Terminal.
LEARN MORE