Twitter's CEO Search Rules Out Dorsey If He Stays at Square
Sarah Frier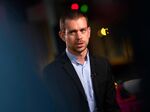 Twitter Inc. said it is seeking a chief executive who can make a full-time commitment to the company, ruling out interim chief Jack Dorsey as long as he remains in the top job at Square Inc.
Twitter's board hired executive search firm Spencer Stuart to help find its next CEO, the San Francisco-based social-media company said in a statement Monday. The search is proceeding with a sense of urgency, but the committee will take the time necessary to find the right CEO, Twitter said in the statement.
Dorsey, who became interim chief executive this month, also runs Square, a digital-payments company he co-founded in 2009. He had been CEO of Twitter, of which he was a founder, before getting pushed out of the role in 2008.
Some people had speculated that Dorsey could remain CEO at both companies, making a return similar to what Steve Jobs did at Apple Inc. in 1997 after being forced out 12 years earlier. Jobs is an idol of Dorsey's.
Twitter said this month that its current CEO, Dick Costolo, would step down July 1. Costolo, who was named chief executive in October 2010, presided over the company's public-market debut three years later and the stock's decline of more than 50 percent after peaking near the end of 2013.
Twitter's shares fell less than 1 percent to $35.55 at 9:45 a.m. in New York.