The President and the N-Word
Obama's use of a word most politicians would not dare utter sets off a media frenzy.
By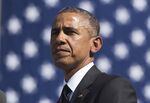 President Barack Obama's use of a racial epithet to illustrate a point on race relations temporarily derailed the debate he said he wants the country to have.
The progress he cited and frustration he expressed on the state of race relations in America during a podcast recorded in a comedian's California garage was set aside for multiple questions about why he said what he said and when did he decide to say it.

"It's not just a matter of it not being polite to say 'nigger' in public," Obama, the nation's first black president said during an hour-long interview for Marc Maron's "WTF" podcast. "That's not the measure of whether racism still exists or not."
The context aside, Obama's use of what is a radioactive slur in most any other instance lit up cable news channels and some social media.
Peppered with questions about the utterance at his daily briefing, White House press secretary Josh Earnest said Obama has no regrets.
"The president's use of the word and the reason that he used the word could not be more apparent from the context of his discussion," Earnest said, adding it wasn't part of a White House media strategy.
"There was no decision made on the part of anybody here at the White House that we are going to capitalize on this audio interview from somebody's garage in California, that this would be an opportune time for him to get this particular point off his chest," Earnest said.
Regarding the president's larger point, that the legacy of slavery and racism remains "part of our DNA," there was less curiosity.
"I would acknowledge it is understandably notable that the president chose to use this word," Earnest said in response to the eighth question about Obama's word choice. "But the argument that the president is making is one that is familiar to those who have been listening."