Moody's Sees Russian Sanctions Entrenched in Blow to Rating
Agnes Lovasz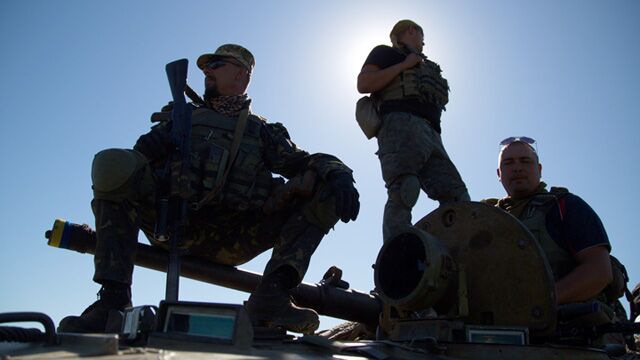 Russia will have to contend with sanctions "for the foreseeable future" as the continuing conflict in Ukraine hinders its prospects for regaining an investment grade rating, according to Moody's Investors Service.
Moody's, which in February joined Standard & Poor's in cutting the country's debt to junk, is "highly unlikely" to raise Russia to investment grade within the next 12 to 18 months, Kristin Lindow, senior vice president at the rating company, said in an interview on Friday in London. Moody's rates the country Ba1, the highest speculative level, with a negative outlook.
European Union governments on Monday prolonged sanctions against Russia by six months to the end of January as sporadic fighting intensified between Ukrainian troops and pro-Russian separatists, further rattling a truce negotiated last February in Minsk, Belarus. The curbs on trade and investment have helped push the Russian economy toward its first recession since 2009.
"As long as the sanctions are in place and most of the issuers in the economy have a difficult time refinancing their external debt, it's unlikely that we would move the rating back to investment grade," Lindow said.
The ruble has rebounded to become the world's best performer against the dollar this year with a 13 percent gain and the benchmark Micex stock index is up about 19 percent. The currency traded 0.2 percent stronger at 61.42 as of 5:37 p.m. in Moscow. The yield on five-year government bonds fell nine basis points to 11.03 percent.
Sanctions Bite
While Russian assets have rallied since the start of the year, the penalties are taking a toll on the broader economy after locking corporate borrowers out of international debt markets. Industrial production slid in May for a fourth month in the longest slump since 2009, data showed last week. A crash in real wages and retail sales is putting Russia on track for the biggest drop in consumption in more than two decades, according to Otkritie Capital.
Moody's predicts the contraction in gross domestic product worsened in the second quarter, reaching about 4 percent to 5 percent after a 2.2 percent decline in the first three months, Lindow said.
In the third quarter, the slump will probably be deeper still before stabilizing, resulting in a full-year decline of 3 percent, she said, adding that the economy will stagnate in 2016.
Further Easing
Given the outlook, the central bank may continue with its efforts to revive the economy through further reductions in borrowing costs to bring down commercial interest rates and encourage lending, according to Lindow.
Policy makers said last week that inflation risks leave little room to lower borrowing costs further. The Bank of Russia has cut its key rate four times this year to 11.5 percent, rolling back an emergency increase to 17 percent in December.
"It's possible that the policy rate could drop further below where the inflation rate is expected to be in a year's time," she said. "They've shown that they are willing to do that even when inflation remains high and when the ruble is arguably vulnerable. I think that there's still room for them to cut rates if they continue to maintain that policy of prioritizing economic stimulus."
Inflation Outlook
With inflation being "sticky," the pace of price increases may not ease below 10 percent before the middle of next year, Lindow said. Inflation will be at 9 percent by the end of 2016, according to Moody's.
The central bank, whose medium-term inflation target is 4 percent for 2017, forecasts price growth will slow to 9 percent next March as the economy cools. Inflation decelerated for a second month in May, slowing to 15.8 percent from a year earlier, compared with 16.4 percent in April.
While the government's fiscal position is "comfortable" with oil prices at current levels, the country's "external position is somewhat vulnerable," Lindow said. The external debt ratio rose to about 60 percent of GDP from 35 percent in recent years after the ruble lost almost half of its value last year, she said.
The government, which is planning to tap its sovereign wealth funds to finance the budget deficit this year, may be forced to borrow in 2016 to cover next year's fiscal shortfall, she said, adding that the fundraising may not come through an international bond sale.
"It's not clear how receptive the market would be," she said, "It would have to be very carefully planned. The issue is that official reserves are going to be the source of foreign exchange for private and state-owned companies because their own cash reserves have been depleted by their own repayments."