Russia Sanctions Show Bright Side as Companies Push to Cut Debt
Maria Levitov and Lyubov Pronina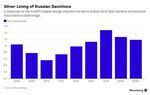 Sanctions against Russia aren't all bad news for the nation's companies.
As the European Union extends penalties that are locking Russia out of global debt markets, corporate borrowers will be forced to reduce debt burdens that soared to the highest in at least a decade in 2014. Eurobond issuance from the nation's companies dwindled to just $77 million this year from $28 billion in the same period in 2013, according to data compiled by Bloomberg.
"Some corporates and banks used external debt capital markets too much without any internal limits," Egor Fedorov, an analyst at ING Groep NV in Moscow, said by phone on Friday. "Sanctions implementation was a good kick for them to re-think their funding strategy and dependence on external-debt financing."
The deleveraging has already captured the attention of bond investors, who got returns of 17 percent on Russian company debt in 2015, the second most among developing economies. There may be more gains to come, according to Newfleet Asset Management and UralSib Capital. Corporate bonds from the world's largest energy exporter still pay the highest yields among the biggest emerging markets.
Lowering Debt
Debt held by companies listed on the Micex Index will fall to 1.27 times earnings before interest, taxes, depreciation and amortization in 2015 from 1.48 in 2014, bringing the multiple in line with emerging-market peers, according to forecasts compiled by Bloomberg. The ratio will fall to 1.18 by the end of 2016.
The benefits of sanctions only go so far. The top 20 Russian companies rated by Moody's Investors Service need to refinance about $30 billion of external debt by the end of 2015, Moody's said in a statement on June 19. Getting this cash on global capital markets will be harder after EU governments extended sanctions by six months to the end of January to keep up the pressure on Russia to bring peace to eastern Ukraine.
Companies will be left, in part, to draw on their own cash, rather than channeling those funds into expansion projects, a trend that will make it harder for Russia to pull itself out of a slowdown. Along with the 45 percent drop in oil prices in the past year, the penalties led the economy to shrink 2.2 percent in the first quarter.
For now, Russian companies and lenders have sufficient foreign-currency buffers to make external debt payments, the central bank said in its Financial Stability Report Tuesday.
Ukraine Risks
"Selectively Russian corporates do look attractive from a fundamentals perspective," Shamaila Khan, a money manager at AllianceBernstein LP in New York, said by e-mail. "However, event risk is very high until we see some resolution to the Ukraine conflict."
The debt-to-Ebitda ratio of 44 Russian companies tracked by ING fell to 1.1 times last year from 1.3 in 2013, with non-oil and gas firms deleveraging at a faster pace. Their multiples fell to 1.5 times Ebitda from 2.1 in the period, according to data from Fedorov, who ended his overweight rating on Russian company bonds only this month due to escalating tension in Ukraine.
Yet the lack of new supply is prompting Steve Hooker, who helps oversee $12.5 billion of debt at Newfleet in Hartford, Connecticut, to "take a closer look at some of the Russian corporates." Eurochem Mineral & Chemical Co. and OAO PhosAgro are among companies that are attractive, he said by e-mail Thursday.
For Dmitry Dudkin, the head of fixed-income research at UralSib Capital in Moscow, "now is the time to buy" Russian company bonds for investors searching for yield. The country's corporate dollar bonds yield 6.89 percent, compared with rates of 6.08 percent for Brazilian companies, 4.35 percent for India and 3.89 for China, according to data compiled by Bloomberg.
Read this next:
"In some sense, sanctions were helpful for the Russian economy," Evgeny Gavrilenkov, the chief economist at Moscow-based Sberbank CIB, said in an interview in London on June 10. "They were very timely, well before the price of oil sank."