Putting Woman on $10 Note Spurs Backlash Over Hamilton Demotion
Kasia Klimasinska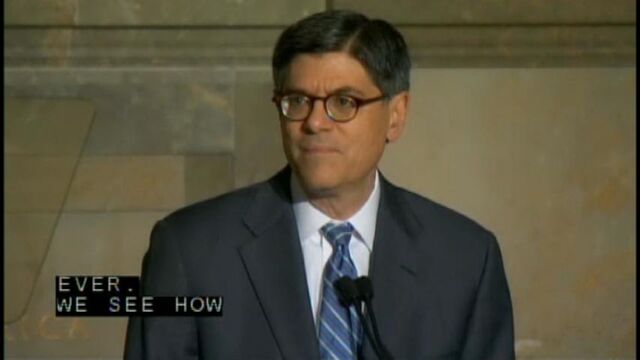 Treasury Secretary Jacob J. Lew was trying to do the right thing when he decided that a woman should be featured on the $10 bill. Instead he's been buried in scorn.
Former Federal Reserve Chairman Ben S. Bernanke joined in the condemnation on Monday in a blog post declaring that he was "appalled" Lew was demoting Alexander Hamilton, America's first Treasury secretary, rather than evicting Andrew Jackson from the more widely circulated $20.
Hamilton was "without doubt the best and most foresighted economic policy maker in U.S. history," wrote Bernanke, whereas Jackson, who opposed a central bank, was "a man of many unattractive qualities and a poor president."
There hasn't been a woman on U.S. currency since Martha Washington adorned silver certificates more than a century ago.
Barbara Ortiz Howard, the founder of Women On 20s, a non-profit group formed to convince President Barack Obama to put a woman's image on the $20 note, said Lew had "snatched defeat" from the jaws of victory with his choice.
"We have controversy where we needed to have a celebration," she said of the furor that's has developed since Lew announced the decision last week.
The Treasury says the $10 was picked as the only way to get a woman onto the currency in time to commemorate the 100th anniversary of the passage of the 19th Amendment, which extended voting rights to women, in 1920.
Redesigning a U.S. banknote is a lengthy process because of security and anti-counterfeit considerations, and the decision to tackle the $10 was already taken two years ago.
Placating Critics
The $10 bill is the third least-circulated among the seven major denominations, accounting for 5.2 percent of 36.4 billion notes in use at the end of last year, according to Federal Reserve data. The Treasury's assurance that it would seek ways to keep Hamilton's image on some $10 notes also failed to placate critics.
"This person, the secretary of Treasury, must not know his American history," said Lynn Olympia, president of the Alexander Hamilton Historical Society of Kentucky. "They should remove Andrew Jackson."
Lew will make the decision on which woman to put on the note later this year.