De Blasio Bows to Council Pressure by Adding 1,300 More Police
Henry Goldman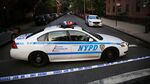 New York Mayor Bill de Blasio next week will mark the end of his first full fiscal year running the biggest U.S. city, putting his stamp on a $78.5 billion budget that spends more on police, libraries and the poor.
His decision to spend $170 million to add 1,297 officers to the department of about 35,000 comes after months in which shootings and homicides, while near record lows, had increased since last year. After opposing calls to add cops, because he said the city had more pressing needs, de Blasio changed course Monday night, giving victories to both the City Council majority and Police Commissioner Bill Bratton.
"There have been long conversations, particularly over the last few weeks, on what was the right thing to do," de Blasio said at City Hall, where he announced a deal with council Speaker Melissa Mark-Viverito. "We came to a plan that allows us to strengthen our police force while encouraging a deepening of reform, while finding key reforms on the fiscal front."
The spending plan adds about $200 million to what had already been a record $78.3 billion budget de Blasio first proposed in May. Six years of economic growth makes that possible. Peak employment, record tourism and Wall Street profits have brought a torrent of unanticipated revenue -- a $1.8 billion surplus this year and $1.3 billion in fiscal 2016, according to the Independent Budget Office, a fiscal-monitoring agency.
Deal Blasted
De Blasio, who describes himself as a progressive fiscal conservative, repeatedly warned of an inevitable economic downturn in presenting his plan last month, and in fending off calls to hire more police. He said Monday that the new budget retains $4.1 billion in reserves to reduce the impact of future expenses.
Mark-Viverito characterized the police hirings as one of several wins for the council, including a $39 million in added spending so that each of the city's 214 branch libraries can stay open six days a week. The budget also contains a $1.4 million bail fund to lend as much as $2,000 to suspects awaiting trial for non-violent, low-level offenses.
Not everyone praised the deal. The Citizens Budget Commission, a business-supported fiscal monitor, was among those criticizing de Blasio's increased spending, noting that the accumulating costs of higher salaries and benefits will put stress on future budgets.
"Although there is additional revenue available to fund these costs in the coming fiscal year, the agreed-upon additions are an added risk to the city's fiscal health in future years, when budget gaps are already projected and when an inevitable economic downturn will erode the revenue required to pay for recurring expenses," the group said in an e-mail.
'Systemic Problems'
De Blasio also took heat from civil-rights activists campaigning against police violence. They object to the department's "broken windows" policy, which they say leads to harassment for low-level violations in mostly minority neighborhoods.
"Politics at its worst," said Monifa Bandele, a spokeswoman for Communities United for Police Reform. "The city budget will increase the NYPD headcount when systemic problems with police accountability and culture that allow New Yorkers to be abused and killed have yet to be fixed -- and while major needs in our communities are under-resourced."
The issue of police headcount had divided the mayor from Mark-Viverito, an East Harlem Democrat whom he supported for the leadership post. She and the council majority had pushed to expand the the department by 1,000. De Blasio said he agreed to almost 300 more than that because Bratton wanted to boost his 1,000-officer counterterrorism division.
Through June 14, the city experienced a 19 percent increase in homicides and a 10 percent increase in shootings compared with the same period in 2014. All major crimes have fallen about 6.6 percent, according to police statistics.
The plan to increase the department would be offset by savings from an unspecified cap on overtime and by hiring 400 civilians to free uniformed officers to patrol beats, de Blasio said.