New Jersey Transit Pay Soars as Commuters Tapped for 9% Fare Increase
Elise Young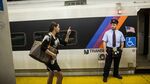 With New Jersey Transit commuters facing higher fares amid a $120 million budget deficit, the agency is paying more to workers as it deals with equipment repairs and service disruptions.
Overtime at the nation's third-biggest rail and bus operator climbed to $135.3 million last year, a 12 percent increase from 2011. During the same period, the ranks of New Jersey Transit workers paid at least $100,000 a year grew 20 percent, according to data on the state's website. The costs were driven by service needs and emergencies, plus wages in union contracts, the agency says.
"I don't know how you justify" higher fares, said Stephanie Dunstan, a 30-year-old Hamilton resident, as she waited on June 17 for the 6:55 a.m. train to Manhattan, where she works in insurance. "I know people who are getting raises of 2 percent, 3 percent."
New Jersey Transit handles about 955,000 passenger trips on a typical weekday. Many riders rely on mass transit to get to jobs in Manhattan. About 15 percent of New Jerseyans endure commutes of 60 minutes or longer, one of the highest rates in the nation, Census Bureau data show.
The fare increases, which will average 9 percent and take effect Oct. 1 after formal board approval next month, hit commuters frazzled by breakdowns, delays and antiquated facilities.
Compensation will rise 7.4 percent in the fiscal year starting July 1, taking up 59 percent of the agency's $2.1 billion budget. From commuters, it expects to glean $56 million by alternating or eliminating eight routes and raising fares. A monthly round-trip pass between Hamilton and New York Pennsylvania Station will climb to $463 from $425.
"I will not sugar-coat our challenges for you," Veronique Hakim, the agency's executive director, told lawmakers in Trenton on April 2. "New Jersey Transit, like the state, is facing serious financial pressures."
Big Bucks
The agency is mindful that its last increase, an average of 22 percent in 2010, "was a serious burden to our customers," Hakim told lawmakers.
That's no solace for Renee Wilder, who pays $248 for a monthly train pass to Elizabeth, plus $7 a day to park at the Hamilton lot.
"I have two sons in college, and I'm going to feel it," said Wilder, 53, a social worker from Ewing.
In the past month, alerts to the agency's train riders have warned of disabled rail cars, downed power lines and unspecified "operational issues," "signal problems" and "congestion."
Employee Benefits
The request for higher fares follows years of rising employee compensation. Base pay climbed 2.6 percent, to $761.8 million in 2014 from $742.1 million in 2011, data show.
Growth in other pay areas was more pronounced. Last year, the number of employees earning at least $100,000 reached 1,095, a 10 percent increase from the prior year.
About 80 percent of the six-figure workforce receive "union, agreement-driven salaries," said Nancy Snyder, an agency spokeswoman. Others have professional licenses and certifications, she said.
Extra-hours pay, driven by service needs and emergencies, will be reduced by $1.5 million next year.
"There will be no reduced coverage affecting customers whatsoever," Snyder said.
Passengers who skewer the agency on social media have a fellow sufferer in U.S. Senator Cory Booker, the former Democratic mayor of Newark, who posted on Twitter on June 15: "On NJ Transit into NYC for meetings. We've come to a stop and are delayed. Reinforces urgent need for a new tunnel & infrastructure investment."
Project Funding
The transportation-funding challenge is a national one as well. Booker's colleagues are urging Senate Republicans to reauthorize the Highway Trust Fund, which is operating under a two-month extension. From 2008, the Treasury has transferred at least $54 billion to the fund as spending outpaced gasoline-tax revenue, according to the Congressional Budget Office.
For New Jersey Transit, the most crippling deficiencies are beyond its control.
The Port Authority of New York and New Jersey is financing $4 billion in improvements to LaGuardia Airport rather than a $10 billion renovation of its Manhattan bus terminal, the world's busiest.
The depot, designed for 150,000 daily passengers, had 232,000 in 2011, according to a Port Authority analysis. By 2040, 51 percent more are expected in the maze-like space with insufficient seating and ventilation.
A pedestrian fatality there March 26 delayed rush-hour departures for hours. On June 10, a bus crash injured at least 30 people and froze Lincoln Tunnel and depot traffic.
Century Old
For rail passengers, the biggest headaches come from century-old infrastructure. A swing bridge over the Hackensack River tends to malfunction, potentially affecting 450 trains per weekday on the Northeast Corridor, the busiest route for Amtrak, the national rail operator that shares its tracks with New Jersey Transit. Replacement would cost at least $940 million, according to an Amtrak fact sheet.
A $12.4 billion project to ease Hudson River tunnel traffic was killed in 2010 by Governor Chris Christie because of what he said were design shortcomings and potential cost overruns. The project, which would have been financed at historically low rates, would have more than doubled peak commuter service to Manhattan.
Canceling the tunnel allowed Christie, who is considering a run for the Republican nomination for president, to divert money toward the state's depleted highway fund and avoid raising the gasoline tax. That fund will have no cash for new projects by the end of fiscal 2016.
The existing rail tubes will be out of service in less than 20 years, according to Joseph Boardman, chief executive officer of Amtrak, and no funding exists for replacements.
"If it were a highly functional railroad, I don't think anyone would have a problem" with higher fares, said Michael Phelan, 47, co-founder of New Jersey Commuters Action Network, which opposes the increases. "This is the most important workforce on the planet. How is it that you've got people stuck in tunnels for hours?"